During the last month of October, the SESAR U-space AURA project (PJ.34) performed a series of fast-time simulations to study, from a safety and efficiency point of view, how a large number of drones react by different levels of deconfliction when dynamic constraints are announced and activated in the U-space. These studies, performed by Airbus UTM, help to set the basis for dynamic constraints and allow air traffic management to safely interact with U-space and minimise any impact on operational efficiency.
The scenarios are run in the surroundings of Adolfo Suárez Madrid-Barajas airport where UAVs transport goods from the logistic airport to a delivery centre in San Fernando de Henares. The goal is, by means of a dynamic constraint, to avoid the collision of UAVs during their route with manned aircraft taking-off/landing from the airport using runway 14R/32L.
From a deconfliction perspective, these studies start with a baseline scenario where no deconfliction mitigations are activated and, incrementally, strategic, pre-tactical and tactical mitigations are included in each scenario respectively.

From a dynamic airspace reconfiguration side, the dynamic areas were modified to identify the optimal time to replan accordingly the UAV routes, reducing the likelihood of incursions.

With all the data collected during a total of 1600 hours of simulation and studies, the analysis looks very promising and will serve for its further study in future projects. One example is the tactical replanning of a UAV based on a DAR activation as shown below. A validation report is now being compiled.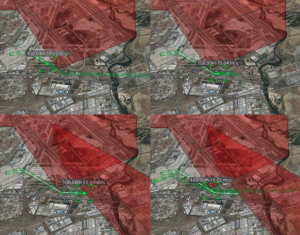 For more information visit: