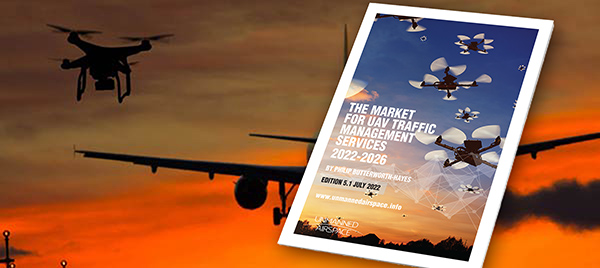 The market for UAV Traffic Management Services – 2022-2026 gives the world's most comprehensive, accurate and validated guide to market forecasts, opportunities and future developments for the global UAS air traffic management (UTM) sector.
Since 2018 we have been collecting data on market drivers and values and testing our conclusions and forecasts with industry specialists and historical records of expenditure.
We provide an analysis of development plans, technology and standards roadmaps, UTM service supplier routes-to-market and UTM financing trends. We have gathered information first-hand from government and industry sources around the world to gain a country-by-country perspective on how UTM services are being developed and introduced. We look at how charging for UTM services is being planned and how UTM service providers, including air navigation service providers (ANSPs), are aligning their business plans to the changing market requirements.
We look at top-down forecasts for drone deliveries and expenditure and analyse the drivers for more complex services supported by UTM systems across the world. We take a deep dive into the regulations and standards, identifying where and how these are accelerating UTM deployments or, in many cases, holding them back.
We report on the key technology drivers that are shaping the market and report on the companies that are winning the major contracts and how their technology and business plans are aligned to the market. We look at potential revenue streams for UTM service companies and provide an analysis the priorities of governments, air navigation service providers and cities in the search for industry partners.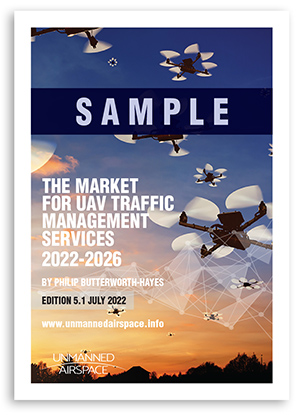 To download a sample of the report, please, click here.
This is a highly complex market, comprising disruptive technologies and business concepts, which makes forecasting more difficult than many legacy aviation sectors. The report seeks to make sense of many of these uncertainties – including
Complex draft regulatory proposals in the European Union (EU) and USA – do they threaten to stifle competition and pose serious question marks to long term business plans?
How will telecom service providers enter the market?
What will be the impact of delays to the timetable for UTM development by States and ANSPs?
Are there any continuing uncertainties over the technical capabilities of core UTM technologies, as highlighted in research programmes on both sides of the Atlantic?
Where are the clear revenue streams for start-up UTM service providers – and what sort of partnerships are being developed to exploit expertise in niche sectors?
How might continuing uncertainties over national security agency requirements for rogue drone detection to be integrated within UTM services impact the market?
How will air navigation service providers integrate low level UTM networks within digital airspace management systems?
Ordering the report
The forecast is available for €723/$880/£650 for a single copy of the report or €1,335/$1,638/£1,200 for an updated subscription (the most recent issue of the report available plus two updates over a 12 month period). To find out more about this service – please send an email with your contact details and information request to the editor, Philip Butterworth-Hayes, at philip@unmannedairspace.info
To order the report, please send your request to:
marketforecast@unmannedairspace.info
and we will send you an invoice either via paypal for payment by credit/debit card settlement or a pdf invoice for bank transfer payments.