As drone technology becomes better in quality and lower in price, there is an inevitable increase in curiosity in drones and unmanned aerial vehicles (UAVs). Recreational and professional operators alike seek to push the boundaries of how high and far they can go, for example, in the search for just the right film and photo footage.
Whether unwitting or not, the likelihood of a drone encroaching on sensitive airspace increases with almost every passing day, and with this, the safety and economic risk to infrastructures like airports can be severely compromised. Around the world, there have been many cases of airports having to, at best, delay or divert flights, and, at worst, shut down operations completely. The cost of the latter is huge. Further heightening the threat, of course, is the likelihood of a much greater number of unreported incidental cases beyond the documented cases.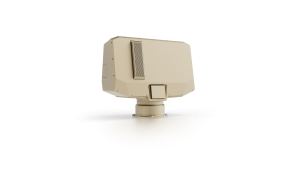 Little time to lose
It is understandable, therefore, that airport authorities are looking for effective solutions to improve their ability to detect low, slow and small targets, such as unmanned aerial vehicles (UAVs). Without question, authorities need to be able to control their airspace with utmost confidence and precision.
Time is certainly of the essence. The sooner a threat is evaluated, the more time there is to evaluate any risk and determine a suitable course of action. Being able to detect and classify a small, lightweight UAV at a distance of several kilometers – and then quickly analyze its velocity and course – can make the difference between normal operations and a complete flight shutdown.
Modern Doppler radar technology is one of the most effective means of achieving this. But it's not enough alone. It is the combination with supporting technologies, including 3D digital array and data capture systems, that provides operators with comprehensive tracking and analysis capabilities that are needed in today's cluttered air traffic environments.
High-performance, high-accuracy detection
As specialists within Doppler radar technology solutions, Weibel Scientific's developers are constantly pushing the boundaries of what can be achieved with X-Band FMCW/CW sensor systems and FMCW 3D digital-array surveillance.
With Weibel Scientific's latest release, the XENTA counter-UAV radar, flight traffic controllers can gain access to a solution developed specifically to detect and track all types and sizes of fixed-winged or propelled drones, whether flying alone or in clusters. These radars meet all the necessary requirements for drone detection and surveillance for civilian applications, such as critical infrastructure protection, border protection, perimeter control and unmanned traffic management (UTM).
Full coverage of the smallest objects
Featuring a 30 to 60-degree elevation opening angle and 360-degree azimuth coverage, and using advanced dynamic clutter-mapping and MTD-processing, the XENTA radars can distinguish at a long distance even the smallest micro-Doppler signals generated by propelled micro or mini-drones.
Available in low-power and high-power variants, the XENTA radar detects, classifies and tracks drones within the full surveillance-volume with impressive precision – even when challenged by high-clutter environments. Comprehensive testing has shown that the XENTA can consistently detect and classify, for example, a Phantom 4 drone at distance of up to five kilometers.
Advanced analysis capabilities
Based on an open-architecture interface, the XENTA can be integrated with any common third-party command control system, allowing track data generated from targets, including 3D position and velocity, to be reported at a high data-rate and with minimal latency. The data can be easily integrated in an electronic flight bag (EFB), which ultimately ensures that air traffic control, airlines and aircraft operators gain all the surveillance information needed for full situational awareness.
It is capabilities such as these that ensure that flight controllers can conduct accurate, real-time UAS monitoring and bird avoidance, in the same way that they conduct active weather avoidance both airborne and on the runway.
With the XENTA radar solution, airport authorities gain an effective means to counter the proliferation of ever-smaller UAVs.
Picture caption
The XENTA radar system from Weibel Scientific provides high-performance 3D detection, tracking and classification, combining FMCW and CW digital-array beam forms with advanced dynamic-clutter mapping and MTD processing.
For more information