By Jenny Beechener
Speaking at the first Drone Enable webinar of 2022, ICAO Unmanned Aerial Systems (UAS) Advisory Group Chair and Director of NASA Aeronautics Research Institute (NARI) Dr Parimal Kopardekar (PK) said an "ambitious" fourth Edition of the Unmanned Traffic Management (UTM) framework document will be published in April 2022. "It is a reflection of the maturity and growth of UTM and understanding of the technology." It addresses three specific problem areas: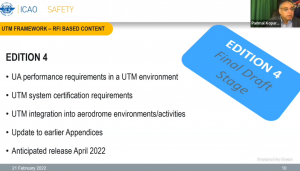 UAS-AG is also looking ahead to its next steps to keep pace with rapid evolution by the industry. "We are moving much quicker than ICAO typical processes," said PK. "The advisory group has been very successful in providing member states with information in a timely manner so the industry can leverage its maximum value while also being safe."
Among topics going forward, UAS-AG has started to address aeronautical information management (AIM) for UAS/UTM as well as Advanced Aerial Mobility (AAM). Several factors will be considered including quality assurance, GIS information and other specific UAS requirements. Another critical area is the certification of automation systems in order to create harmonised systems and ensure common practices across the globe. Further topics include UAS model regulations, and UAS Flight Rules.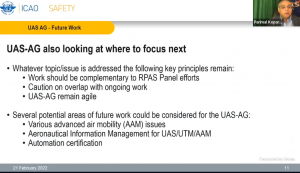 The process is supported by the annual international Drone Enable symposium and series of Drone Enable webinars hosted by ICAO throughout the year. Drone Enable 2022 is scheduled to take place in-person in Montreal between 14-16 November 2022.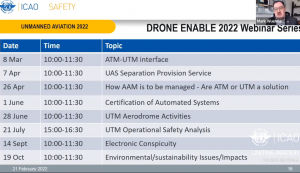 "The theme for Drone Enable 2022 is learning from the past for a better future," said Mark Wuennenberg UAS-AG Secretary, programme lead for Drone Enable 2022 and ICAO RPAS Secretariat Technical Officer. "ICAO will release a Request for Information (RFI) in the coming days inviting submissions up to 2,000 words in response to problem statements of interest to operators, regulators, states, UTM and service providers. We try to capture the lessons learned and develop a harmonised framework for the industry." UAS-AG will evaluate responses received before the mid-May deadline and select those with relevant technical and procedural content to present at the Drone Enable 2022 Symposium. "The intent is to move the industry forward," he added.
The RFI will be released on the ICAO unmanned landing page: https://www.icao.int/safety/UA/Pages/default.aspx
"The aim of the UAS-AG is to make sure guidance material adopted and shared," explained PK. "The RFI process enables us to collect information from stakeholders at large, and share the lessons learned. Drone Enable is the opportunity to show the best solutions and practices, and take progressive steps towards harmonisation."
UAS-AG published the first Edition of the UTM Framework in 2017, which introduced the primary capabilities need to support the safe integration of drones. Subsequent editions have expanded on the guidance material to consider the boundaries between UTM and ATM; separation and deconfliction, risk assessment and contingency procedures and target levels of safety. "The intention is to provide member states with the appropriate level of guidance that enables them to conduct their own assessments," added PK.
In addition to Drone Enable 2022, ICAO will host RPAS 2022 which is taking place between 7-9 November 2022. This event will focus on certified remotely piloted aerial systems (RPAS) where requirements include air worthiness certification, pilot licensing and automation oversight.
(Image: Shutterstock)