By Jenny Beechener
The Federation Aviation Administration Concept of Operations (ConOps) anticipates three complementary service environments for unmanned operations to fly beyond visual line of sight (BVLOS), explains Steve Bradford, Chief Scientist for Architecture and NextGen Development, at the Drone Enable webinar, UTM as an Enabler for Collaborative Operating Environments hosted by ICAO on 30 May 2023. Currently, small Unmanned Aerial Systems (sUAS) can fly in US national airspace if they maintain visual line of sight (VLOS).
Upper Class E airspace typically begins at FL600 and includes high-altitude, long-endurance and supersonic aircraft with minimal traffic management requirements. Advanced Aerial Mobility (AAM) and Unmanned Traffic Management (UTM) meanwhile depend to a much greater extent on Air Traffic Services (ATS) and require both cooperative separation management and cooperative flow management to operate safely at scale. The FAA collectively calls the three environments eXtensible Traffic Management (XTM). "XTM is analogous with ATM," says Steve Bradford: "We believe there will be areas designated for XTM operations. Within them, the operators will share information, plan their intent, monitor what is going on, and we'll make sure the traffic volumes are compatible with the capacity within that airspace." Importantly, there will be "overarching interaction between the traffic flow management system and the cooperative flow management system". This is supported by common terminology, rules and interactions across all the domains to build a cooperative operating environment.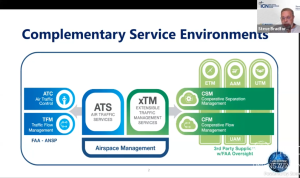 The FAA XTM Cooperating Operating Environment
European unmanned airspace users are also waiting for a regulated environment in which to operate, despite the introduction of U-space regulations by the European Aviation Safety Agency (EASA) in January 2023. "U-space Regulation 19/947 enables a first level of integration, but it is not yet in place," says Hendrik-Jan Van Der Gucht, Skeydrone Managing Director. "The first applications will come at the end of this year and over the next two years." He points out that operators are struggling to obtain authorisation from national authorities, with many "not able to draft acceptable risk assessments where they have no access to an existing risk mitigation toolset".
Stepping into this void, a number of "port authorities and port-based companies are willing to act as early adopters by investing time and energy to try to bridge the gap between market demand for drone services and missing supply," says Hendrik-Jan Van Der Gucht: "The Port of Antwerp is using the current framework to enable daily BVLOS drone flights in the harbour which are serving multiple purposes and use cases today".
Digital technology lies at the heart of meeting industry needs, says Koen De Vos, Secretary General of the Global UTM Association (GUTMA). "We are confronted with fundamental change as we make the leap from the tradition aviation environment to the digital environment." He points out that many different market actors need to collaborate and interact to achieve the level of cooperation required to operate at scale. The pertinent question to answer is "where and how to collaborate in the market?". Koen De Vos says UTM service providers must collaborate to deconflict an operation in advance, however competition with the drone services market means interactions need to be managed in an equitable way. He says part of the solution lies in commoditising the wave of new technologies and achieving a paradigm shift from human-centric to technology-centric operations.
More online webinars are scheduled in the ICAO Drone Enable series in the lead up to Drone Enable 2023 which will take place between 5-7 December 2023 in Montreal.
For more information visit:
(Image:Shutterstock)