Swiss-based air traffic and surveillance company INVOLI joined with antenna company Astrocast to develop "a robust, lightweight solution for tracking drones in any location", according to a paper published by Astrocast in a project initiated by the European Space Agency (ESA).
INVOLI's remote identity tracker, known as LEMAN Remote Identification Tracker, is designed to provide visibility across an entire drone fleet for commercial operators. The complete solution is a combination of a plug-and-play device with GPS, a Network Remote ID server, and a set of visualization, alerting, and API services, using 4G networks. Leman Remote ID Tracker provides drone position, altitude, and speed during flight.  In 2021, INVOLI recognised the need to add satellite connectivity to its solution to provide connectivity across any global location.
As a result of the collaboration, Astrocast developed a custom satellite antenna, leveraging its radio frequency expertise, that is both small and light enough to avoid drag or affect the drone in flight while also providing connectivity, even if a drone crashed. A satellite connection requires the antenna to be pointing upwards, therefore the solution includes two antennas – one on either side of the drone – to provide 360-degree coverage in the event of a crash landing.
INVOLI also developed a new tracker platform to integrate the Astrocast technology. To meet the needs of commercial drone operators, the solution is small, lightweight, and requires extremely low battery power usage.
INVOLI's lightweight design ensures the tracker can be easily integrated with any drone – especially the heavier ones. Furthermore, by developing a solution with its own battery and connectivity, the tracker becomes independent of the drone. Even if the drone loses power, the tracker continues to function and provides location data, allowing operators to recover the asset.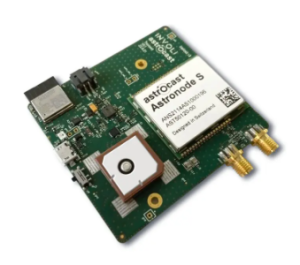 For more information: