The US Federal Aviation Administration (FAA) has launched the Uncrewed Traffic Management (UTM) Field Test website providing details of FAA and NASA work.
In February 2022, the FAA announced the UTM Field Test (UFT) project will begin field-testing new capabilities and proposed standards with UAS flight tests. These activities will test how the latest UTM capabilities and proposed standards will support small UAS operations in the real world. UFT and its partners will conduct flight tests in complex environments including operations over people, at night, and among diverse missions. The UFT project will also test updates to UTM technology such as data correlation using remote identification and updated cybersecurity framework.
The test outcomes will provide the FAA with information to support policy development and will help industry update standards to support routine BVLOS operations. Test infrastructure updated through field testing activities will allow for continued collaboration between the FAA and the UTM community and support maturation of UTM ecosystem.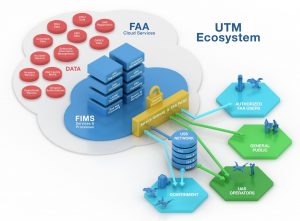 UTM Field Test will help improve UTM capabilities and services within UTM ecosystem.
Contact: FAAUTM@faa.gov
Visit the FAA UTM Field Test site:
https://www.faa.gov/uas/research_development/traffic_management/field_test/