According to a social media post from Egis, a new European Space Agency (ESA) study called 'SUPER' (Supporting UAM Planning with EO Resources) is looking at using Satellite Earth Observation (SatEO) and Satellite Navigation (SatNav) technologies/data for UAM infrastructure planning and integration into public transport, as well as in the planning and monitoring aspects of UAM operations.
"SUPER brings together a unique mix of Egis employees from different sectors, such as aviation experts, urban planners and mobility specialists to develop a single comprehensive understanding of the city and aviation perspectives," says the post. "The aim of introducing SatEO (archived and near real-time data) is to provide diverse geospatial, environmental, weather and mapping information, and eventually combine it with positional data (SatNav) from air traffic. This would support strategic planning of UAM infrastructure, such as networks of vertiports and also introducing 3D urban zoning to facilitate aerial vehicle integration with other public transport means. It could also assist with planning and monitoring UAM operations, providing users with the benefit of regularly updated routes or mapping. EO could be used to identify new obstacles, adverse weather areas and possible route planning or linking different existing vertiports.
"SUPER has started with a consultation process to investigate stakeholder and user expectations, visions and constraints (through an online questionnaire and interviews). This will lead to the development of an initial set of requirements. Nearly 50 European stakeholders have been invited to participate in the consultation, around half of them being cities and metropolises. At the time of writing, 13 sets of answers have already been received, including from cities accounting for a total population of more than 11 million people.
"Responses are still arriving and results are being updated, but early results appear to back up EASA's recent study in terms of the front running opportunities and challenges: Most respondents expect to see the main role of UAM as an alternative solution to helicopters (92%), especially for medical purposes. 85% envisage further potential as a freight transport service. For the moment, only 54% predict a potential for passenger transport. This lower percentage may reflect the many remaining challenges ahead of eVTOL passenger operations."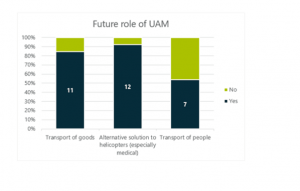 "Most respondents expect UAM services to be operating in the public sector, whether it is using drones to inspect public infrastructure or to support security forces, or even potentially using eVTOLs to replace helicopters for emergencies. Respondents' main concerns around UAM relate to aviation regulation, safety, air traffic management and noise. Some stakeholders also mention privacy concerns by residents as a potential issue."
For more information
https://www.egis-group.com/all-insights/what-role-for-satellites-in-urban-air-mobility-uam-infrastructure-planning