The US National Aeronautics and Space Administration (NASA) has added an online category for Unmanned Aircraft Systems (UAS) to its Aviation Safety Reporting System (ASRS). ASRS receives, processes, and analyses voluntarily submitted incident reports from pilots, air traffic controllers, dispatchers, cabin crew, maintenance technicians, and others. Reports, which may be submitted online via NASA's website, may describe both unsafe occurrences and hazardous situations. Information is gathered from these reports and disseminated in various ways to all stakeholders.
A key aspect of the ASRS is that it is voluntary, confidential and non-punitive.
The goals of NASA's ASRS are to:
Identify deficiencies and discrepancies in the National Airspace System, with the objective of improving the current aviation system.
Provide data for planning and improvements to the future National Airspace System, with objectives to enhance the basis for human factors research and provide recommendations for future aviation procedures, operations, facilities, and equipment.
NASA established the ASRS in 1976 to address the lack of a consolidated reporting and data-collection system regarding aviation incidents and accidents. In that year, the National Transportation Safety Board (NTSB) established ASRS to collect, analyze, and respond to voluntarily submitted aviation safety incident reports to lessen the likelihood of aviation accidents.
Anyone involved in UAS operations can file a NASA ASRS report describe close calls, hazards, violations and safety-related incidents. Researchers can also access the ASRS database and filter decades of voluntarily reported data that otherwise may not have been reported under an alternative, potentially punitive investigative process. Operators can benefit from historical research to gather lessons-learned, enhance their internal Safety Management Systems (SMS) by gathering recent data on trends, equipment, policies, and other operational considerations.
the ASRS model has been replicated internationally in the broader aviation community. The International Confidential Aviation Safety Systems (ICASS) Group promotes confidential reporting systems as an effective method of enhancing flight safety in commercial air transport and general aviation operations.
International Civil Aviation Organization (ICAO) has revised Annex 13 – Accident Prevention and created Annex 19, Chapter 5, which addresses member states establishing a voluntary incident reporting system. This international support enhances the overall efforts to ensure aviation safety for both manned and unmanned flight are held to the highest standards.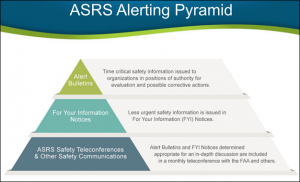 For more information visit: