Together with SAIC, Liteye Systems has been awarded a USD4,500,000, multiple-year contract to further develop and integrate its Liteye SHIELD C-sUAS payload in the US Army (RCCTO) High Energy Laser (HEL) prototype effort. This second contract continues the work of last year's award from RCCTO and furthers the SHIELD platform advancements, says a company press release.
The Army, acting as the Executive Agent for Counter-small Unmanned Aircraft Systems (C-sUAS) remains focused on the elimination of UAS threats.  In a May 2021 Senate Armed Services Hearing, SECARMY, Christine Wormuth, said "The Army needs to be very attentive to challenges like counter UAS for example.…those are absolutely areas that we need to be working on in terms of developing our capabilities and obviously being able to test our capabilities."
The objective of C-sUAS HEL prototype effort is to develop, integrate, manufacture, and ultimately test a prototype HEL System(s) in an operationally relevant environment. This contract enables the rapid prototyping of a near-production representative, cost-effective HEL System(s), which will be integrated with current military battle management systems.  Liteye's SHIELD payload will provide the detection, tracking, and identification of Group 1 & 2 UAS in a range of combat environments which will utilize the new 3D SPYGLASS radar developed in Colorado.  The HEL "hard kill" capability will be provided by a partner company and integrated with Liteye's SHEILD payload to be tested and demonstrated during operational test and evaluation.
In November 2019, the Secretary of Defense designated the Army as the executive agent for Counter-small Unmanned Aircraft Systems (C-sUAS) and in turn, the Secretary of the Army stood up the Joint C-sUAS Office (JCO) under a 2-Star Director within Army G-3/5/7 to address UAS threats while eliminating duplication and redundancies across the DoD.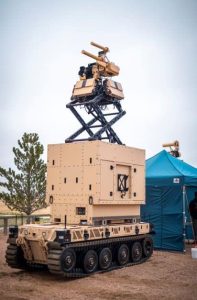 For more information visit: