The September 2023 "forecasts of forecasts" by Unmanned Airspace shows a sharp fall in commercial drone market growth estimates, with compound annual growth rates (CAGR) for the global drone sector over the next few years averaging 17.9%, down from 24% in the January 2023 forecast of forecasts.
While this is still a very robust figure for annual growth rates, the wide variations in market values (from USD 3.99 billion to USD 54 billion) and CAGR forecasts for the next few years (a low of 3.24% and a high of 50%) show that this remains a highly complex market, subject to many contradictory drivers, according to Unmanned Airspace editorial director Philip Butterworth-Hayes.
"Market forecasters are divided over whether China or the USA is the biggest market in the world," said Butterworth-Hayes. "There is little, or no reference, in these forecasts to the widespread use of commercial drones in the war Ukraine – where losses on both sides are running at more than 10,000 a month – and whether these are commercial or military assets. In the USA, the Federal Aviation Administration is forecasting commercial market growth will drop away substantially towards the end of the decade – at a time when commercial industry forecasts show the market rapidly accelerating following the introduction of rules which will allow for more commercially beneficial beyond visual line of sight (BVLOS) and complex operations."
"Despite this, the one clear trend, however, is that, in general, all market forecast companies and consultants are reducing their previous highly optimistic expectations of growth in the commercial drone sector to 2030," he said.
The latest forecast of forecasts: table entries in bold are forecasts which have been published in 2023. For the background to other forecasts in the table please click here.
Forecaster
Market value
Years
Market
Growth rate

 

ABI Research
USD92 billion by 2030
2020-2030
Small UAS
CAGR 25%
Analysys Mason
USD8 billion in 2030
2022-2030
Cellular connected drones
–
China Daily
USD14.8 billion
2022
All drones
CAGR 30%
FACT MR
USD24.147 billion in 2023 rising to USD94.34 by 2033

 

2023-2033

 

Quadcopter market
CAGR 14.3%
FAA
805,000 registered drones in 2023 and 955,000 in 2027
2023-2027
Commercial sUAS fleet
CAGR 4.6%
Fortune Business Insights
USD10.98 billion in 2023 to USD54.81 billion by 2030
2023-2030
Commercial drone market
–
Frost & Sullivan
–
2019-2023
Global commercial UAS fleet
CAGR 4.3%
DRONEII
USD54.6 billion by 2023
2023-2030
Global commercial UAS fleet
CAGR 7.7%
Gartner
–
2019-2020
Global commercial UAS fleet
CAGR 50%
GAI
USD58.5 billion by 2026
2022-2026
Global UAV fleet
CAGR13.9%
Grand View
USD19.8 billion in 2023
2023-2030
Commercial drone market size
CAGR 13.9%
International Data Corporation (IDC)
–
2020-2025
Global drone industry (including software)
CAGR 33.3%
MarketsandMarkets
USD26.2 billion in 2022 and USD38.3 billion in 2027
2022-2022
Civil and military drone industry forecasts
CAGR 7.9%
Statistica
USD3.99 billion in 2023
2023-2028
Civil drones
CAGR 3.24%
Teal
USD19.8 billion by 2030
2022-2031
Global civil UAS fleet
CAGR 9.1%
Technavio
–
2021-2025
Commercial drones
CAGR 36.73%
According to a May 2023 report from Markets and Markets, the overall drone market is projected to grow from USD26.2 billion in 2022 to USD 38.3 Billion by 2027, at a CAGR of 7.9% from 2022 to 2027. This is a considerable decrease on its 2022 forecast, which predicted a 16.4% CAGR between 2021 to 2026.
"Rising demand for military C4ISR capabilities is driving the demand for UAVs," said the company. "Drones are used to gather data about ongoing and life-threatening military missions with the help of their command, control, communications, computers, intelligence, surveillance, and reconnaissance (C4ISR) capabilities which are used to reinforce, boost, or implement command and control strategies and directives within military and intelligence frameworks. C4ISR powered by AI uses machine learning to identify and classify tanks and other vehicles, improves image feeds, and also provides driving assistance by giving early warning on obstacles and changing ground conditions. Governments are also quickly adopting these technologies to improve their defense arsenal…. The rising number of UAV manufacturers in China and India and increased procurement of military drones is the major factor driving the market growth in Asia Pacific.
"China held the leading share in the Asia Pacific UAV Market during 2022. China is one of the prime manufacturers of drones globally. China focuses on the procurement of tactical UAVs owing to their increased applications in the civil and defense sectors. UAV manufacturers in the country have witnessed an increased demand from various countries of Asia Pacific, Africa, and the Middle East. This is positively affecting the growth of the UAV market in China."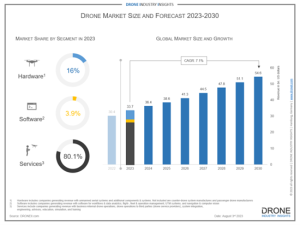 Source: Drone Industry Insights
The annual Drone Market Report by Drone Industry Insights, published in August 2023, predicts a global drone market size of USD54.6 billion by 2030, with the commercial market growing at a 7.7% CAGR. This commercial CAGR figures is 0.1% lower than the same study in the previous year.
According to DII:
By segment: Drone services will remain the biggest segment but hardware will grow the fastest.
By industry vertical: Top industry for applicationsis energy; Meanwhile cargo, courier services, intralogistics and warehousing holds the highest CAGR.
By application method: mapping & surveying is and will remain the top drone application, followed by Inspection as well as photography & filming.
By region and country: The commercial drone market is led by Asia thanks to China and Japan; Middle East & Africa (MEA) will grow fastest.
The global quadcopter market is estimated at USD24,147 million in 2023, according to an April 2023 report released by Fact.MR, and is expected to expand at promising 14.6% CAGR during the assessment period of 2023-2033. While this 14.3% CAGR is healthy enough it is considerably smaller than the 25% CAGR forecast by FACT MR in its 2022 forecast study. Highlights of the 2023 edition include:
The global quadcopter market is projected to reach USD94,342.8 million by 2033.
The market witnessed 12.3% CAGR between 2018 and 2022.
Military quadcopter in drone type segment dominates the market with 68% market share in 2023.
Under application, surveillance & monitoring quadcopter generates the market and are valued at USD 3,926.3 millionin 2023.
Based on region, demand for quadcopter expected to increase at CAGR of 15.7% in East Asia during the forecast period.
In a separate report released in March 2023 Fact.MR said the global emergency drone market is estimated at USD4,885 million in 2023 and is expected to expand at CAGR of 13.1% during the forecast years of 2023-2033. "The global emergency drone market will be valued at USD16,729.8 million by 2033," said the company.
According to Statistica, revenue in the drone market will amount to USD3.99 billion in 2023. The market is expected to grow annually by 3.24% (CAGR 2023-2028). According to the company:
In global comparison, most revenue is generated in China (USD1,394.00 million in 2023).
In relation to total population figures, per person revenues of USD0.52 are generated in 2023.
In the drones market, volume is expected to amount to 9.27 million pieces by 2028. The drones market is expected to show a volume growth of 8.3% in 2024.
The average volume per person in the drones market is expected to amount to 0.00pieces in 2023.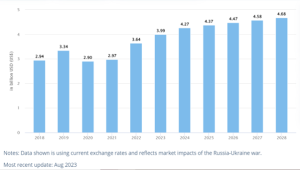 Source: Statistica
Grand View Research has estimated the global commercial drone market size to be worth USD 19.89 billion in 2022 and is expected to grow at a compound annual growth rate (CAGR) of 13.9% from 2023 to 2030. This is down from the 57.5% CAGR previously forecast by the company.
"The rotary blade segment held the largest revenue share of over 79% in the commercial drone market in 2022," said the company. "The demand for rotary blade drones is anticipated to surge for inspection activities owing to their ability to hover and execute agile maneuvering while maintaining a visual on a particular target for prolonged periods. These drones are often seen as a suitable alternative for various business applications such as surveillance, filmmaking, photography, and monitoring. In addition, they are easier to control than hybrid and fixed-wing counterparts.
"The hybrid segment is expected to attain a CAGR of around 18% over the forecast period owing to the advantages associated with these commercial drones. These drones enhance their efficiency and power by integrating the capabilities of batteries and fuel. Moreover, these drones can fly for long periods with heavier payloads, even in severe weather conditions."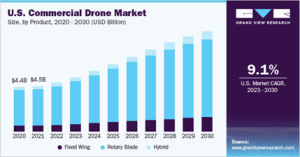 Source: Grand View Research
"The commercial application segment accounted for a revenue share of over 73% in 2022….The precision agriculture application is expected to record a considerable CAGR of over 15% from 2023 to 2030 as drones are becoming one of the essential aspects of farm management….The media & entertainment segment accounted for a market share of over 22% in 2022 and is expected to record notable growth over the forecast period….The delivery & logistics segment is expected to witness the fastest CAGR of 17.8% from 2023 to 2030 with the expansion of the e-commerce sector across the globe."
"The visual line of sight (VLOS) segment accounted for the largest market share of over 69% in 2022….The beyond visual line of sight segment is expected to grow at the fastest CAGR of around 14% over the forecast period. The use of commercial drones for long distances and complex commercial tasks is expected to drive the growth of the segment. In addition, the autonomous capabilities of these drones are enabling operators to use them in increasing instances."
"The North America region is expected to grow at a significant CAGR of 9.9% over the forecast period, owing to the ongoing advancements in drone technology, favorable government initiatives, and growing demand from enterprises across numerous industries."
The global commercial drone market growth was valued at USD8.77 billion in 2022 and is projected to grow from USD10.98 billion in 2023 to USD54.81 billion by 2030, according to Fortune Business Insights. North America the largest market at USD3.24 billion.
In May 2023, the FAA published its aerospace forecasts including drones and urban air mobility vehicles. As with commercial market forecasters
In the recreational market:
"With the continuing registration, over 1.47 million (new) recreational drone owners had already registered cumulatively with the FAA by end of December, 2022. On average, new owner registration stood at around 7,866 per month during January – December 2022 with some expected peaks during the holiday seasons and summer. In comparison, the year before (in 2021), average new owner registration stood at around 10,200 per month during January – December….A comparison of last year's data (2021) with this year's (2022) shows the annual growth rate for new registration to be approximately 6.7%, a drop from the year before (10.2%).
In the commercial sector:
"Last year, the FAA forecasted that the commercial drone sector would include approximately 699,000 small drones in 2022 in base case, a growth rate exceeding 12% over the year before (2021). Actual data came in around 727,000 aircraft by the end of 2022. Our forecast of commercial small drones last year thus undershot (around -4%) for 2022 (or 726,936 actual aircraft vs 699,379 projected aircraft). In low case, FAA forecasted last year 292,000 units to be effective/active for the year 2022; but in reality, the number came to be around 328,000 thus undershooting the lower case by -11%. Forecasting in a time of tremendous uncertainty is indeed challenging, especially given the economic slowdown during COVID-19 and its impact on the drone sector. The commercial small drone sector's fast growth and adjustments during the pandemic demonstrate that fact. Nevertheless, our forecast errors for both recreation and commercial small drones appear to be within the bounds of reasonableness.
The FAA forecasts that the commercial drone fleet will likely (i.e., base scenario) be at around 955,000 by 2027. This is 1.31 times larger than the current number of new commercial small drones…."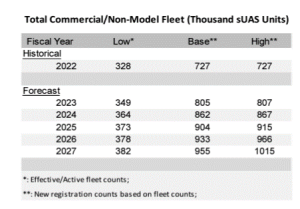 However, this forecast suggests the commercial market in the USA will increase by 7% this year but slowly fall back to a CAGR of 2.3% in 2026 – which is surprising given the boost to the market which a more liberalised BVLOS and UTM-supported regulated regime should deliver.
According to the FAA:
"Part 107 registrations dropped by over 18% in 2020 compared to the prior year of 2019, but recovered in 2021 with an increase of 7%. This further continued with 5% increase in the following year, i.e., during 2022. RP registrations dropped by 5% in 2020, followed by a 31% increase in 2021. RP registration declined by 6% during 2022. Interestingly, the registration of recreational users increased by almost 33% during the past year of 2020 in comparison to the year before; however, recreational user registration went down by 24% in the second year of the pandemic and further declined by 22% during the year after of 2022, in comparison with the first year."
In July 2023, Germany's Association of Unmanned Aviation (VUL) released the results of its bi-annual market study into current trends and developments in the drone, air taxi and drone detection and defence markets in the country.. The study is based on real market data. In terms of commercial drones, "there are well over 400,000 drones in circulation in Germany," said the association. "Most of it, 359,000 drones, is used privately. However, this proportion has been declining for several years. However, the market for private drones seems to be saturated, while the commercial use of drones is becoming increasingly popular: the proportion of commercially used drones has increased by 197 percent since 2019 to 56,400 drones now.
"The growth in the area of ​​commercial use is also due to the high investments in drone companies: In the past ten years, around 124 million euros have been invested in these companies, 93 percent of this sum the drone companies received in the past two years alone. On average, these companies in Germany are eight years old and employ around 20 people.
"The German drone market is currently 955 million euros. The commercial drone market accounts for 893 million euros and the private drone market for 62 million euros. In the ranking of the largest commercial drone markets, Germany continues to rank fourth after China, the USA and Japan. However, this is put into perspective if one does not take the absolute size of the market as a basis, but the size of the market per employee: Norway and Switzerland are then at the top in a global comparison – Germany comes in 18th place.
"The number of drones in Germany will be around the same level in 2030 at around 412,000. While growth in personal use will continue to level off, the number of commercially used drones will increase to 80,000. Only one in seven drones is currently operated commercially in Germany; by 2030 it will be one in five drones. The German drone market will almost double by 2030 from EUR 955 million to over EUR 1.7 billion, which corresponds to an average annual growth rate of 7.5 percent. The growth is mainly driven by the commercial market."
(Image: Shutterstock)