By Philip Butterworth-Hayes
As the urban air mobility (UAM) market approaches its commercialisation phase, there are emerging seven different concepts of vertiport design: the essential, the simple, the elevated, the integrated, the enclosed, the urban hub and the UAM/AAM regional hub. The distinctions between these are sometimes blurred (an elevated vertiport can also be an urban hub), but these different categories reflect the need to develop very different types of infrastructure to support different AAM/UAM services.
The April 2023 update of Unmanned Publications' Global Urban Air Mobility Market Map now lists UAM and AAM projects underway in 130 cities and regions of the world. Updates and additions added in April 2023 comprise Villacarrillo and Zaragoza (Spain), Hezhou City and Hunan Province (China) Dubai and Brownsville South Padre Island International Airport, Choctaw Nation of Oklahoma, Greenport Austin Aviation Campus and San Marcos Texas in the USA.
Among these new updates are widening views on how much money and space should be dedicated to vertiport terminals. It is clear from these early designs that one of the key challenges will be scalability, both of eVTOL size and flight frequencies.
A new class of vertiport announced in April 2023 was The essential, "vertiport in a box" design, an affordable, modular, turn-key solution for smaller property sites proposed by Skyportz and Electro.Aero. Speaking at the April 2023 Revolution Aero conference in Dublin, Clem Newton-Brown, Skyportz CEO said "The focus in the industry to date has been on larger vertiports located at existing airports. This is the low hanging fruit which will form the essential backbone of an advanced air mobility (AAM) ecosystem. However, if this industry is to reach its potential we need to break the nexus between aviation and airports and let private property owners develop their own vertiports.
"At Skyportz we are focusing on affordable options that property developers can incorporate right now into new developments or retrofit into existing buildings. We will soon be releasing a beautiful tiny modular vertiport building that can be delivered to site in a shipping container, and assembled without heavy equipment, complete with a high powered battery bank and charger with solar panels."
The essential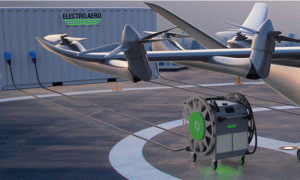 A step-up up from The essential is The simple – a small structure, normally glass-walled with modest spaces for high-throughput passenger flows (as in the Volatus concept below). This design is favoured by Skyports/ADP for the initial Paris UAM operations in 2024 and can be relatively quickly added to existing airport infrastructures and modularly constructed to allow for scalable increases in operations.
The simple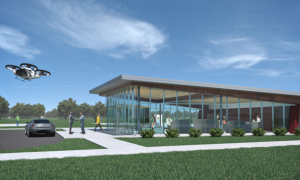 The elevated looks at first sight to be the most elegant solution for an urban vertiport but it comes with some complex engineering and certification challenges (load-bearing structures, rotor downwash issues, for example). While office-top helipads have been in operation for years there are limited options to scale the vertiport to meet future market demand in the UAM/AAM sectors. An image of the model for an EHang autonomous air vehicle (AAV) E-port in the City of Hezhou in Guangxi Province, China, has recently appeared on Twitter. The project was first announced in April 2020. According to the original press release: "The E-port terminal building will be three stories covering 2,500 square meters. Architectural features include a first-floor reception hall, second floor passenger waiting area, and a thrd-floor departure/arrival zone. Four landing pads will be located on the roof-top, which can accommodate the landing/take-off of four AAVs simultaneously."
The elevated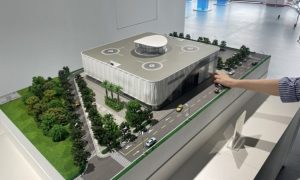 Another elegant design which promises to reduce takeoff and landing noise and rotor downwash disturbance by surrounding the takeoff and landing area by the vertiport terminal is The enclosed. Urban Air-Port's Coventry (UK) city-centre airport featured this concept, as does the design below, propsed by DM-AirTech and Giancarlo Zema Design Group.
Dario Milani, CEO/CTO DM-AirTech said: "With this partnership, we will apply our aerodynamics expertise to support the design of highly operable vertiports. Our solutions will help maximise wind regularity on the Final Approach and Take Off (FATO) Area. This approach will help in reducing gust and turbulence impact on operations and increase vertiport throughput and passenger comfort."
The major drawback will be scalability – as eVTOL sizes grow and operations multiple there will be limited opportunities to expand.
The enclosed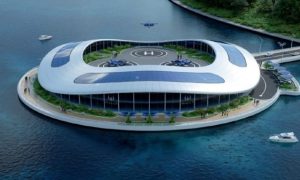 Architects Foster + Partners report that a provisional concept design for a Skyports Infrastructure terminal, located next to Dubai International Airport (DXB), has been endorsed as a vertiport integrated into ground and air travel networks. David Summerfield, Head of Studio, Foster + Partners, said: "The conceptual vertiport connects with Dubai International Airport and the Dubai Metro, to provide seamless, sustainable travel across the city for international and domestic passengers."
The terminal is situated on an elevated deck to facilitate aircraft take-off and landing, reports the company. "The building wraps around the airfield, connecting the arrival and departure lounges and offering spectacular views of the aircraft and the city beyond. The overhanging roof and façade inclination protects the building from direct sunlight and prevents overheating. The building's façade corresponds with the adjacent metro station and its edges are softened with green landscaping. The interior spaces are designed with a refined palette of warm, natural materials to create a comfortable and serene environment."
The integrated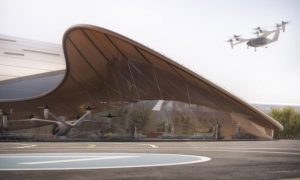 Dubai will host another vertiport concept: the urban UAM hub.
Japanese eVTOL manufacturer SkyDrive and Canadian vertiport manufacturer VPorts are working on developing the AAM Integrator World Centre, a 37,000-square-meter site within Dubai South. This is a large area for a vertiport, featuring 13 landing and take off positions for eVTOLs – though the operational version will require these to be further spaced out to allow for simultaneous operations and scaling of eVTOL sizes.
The urban UAM hub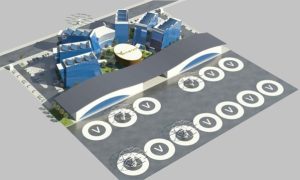 Finally, there are new concepts emerging for regional UAM/AAM hub vertiports. amd.sigma-strategic airport development GmbH, a Berlin based subsidiary of Munich Airport International, has published a prototype design of a battery-electric inter-regional airport.
"The idea for an inter-regional eAirport was inspired by a research project in Germany funded by the government, which aims to design and eventually build two prototypical vertiports. The project involves partnerships with Munich Airport International, Airbus, Bauhaus Luftfahrt, and several universities to explore Advanced Air Mobility (AAM)" says the abstract to the report which continues:
"Following extensive research, the team determined that exploring the potential for using eVTOL aircraft to transport individuals from urban areas to nearby regional airports – located within a radius of 100km from the city – was a promising direction to pursue. These regional airports – many of which are former military airfields – are either currently in operation or abandoned and have the potential to serve as intermodal nodes for eVTOL and small electric short and conventional takeoff and landing (eSTOL/eCTOL) aircraft. The latter type of aircraft has a longer range than an eVTOL, but still requires a runway.
"In designing a prototypical terminal concept, the team sought to create a simple, cost-effective, energetically sustainable (with a focus on on-site production) and modular building structure that allows for future expansions. The enhanced passenger experience facilitated by short transit times was also a key consideration."
The AAM/UAM regional hub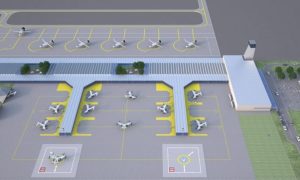 (Main image: Spain's Zaragoza will become the first European city to have a vertiport in an urban environment. The Ayuntamiento de Zaragoza has set aside a 7,500 m² space in the city for 10 years for an urban vertiport to be co-developed by Expodrónica under the umbrella of the SESAR JU U-ELCOME project.)