Joby and SK Telecom (SKT) announced this week, they will partner to introduce air taxi services to cities and communities across South Korea.
SKT's CEO, Ryu Young-sang, and Joby's founder and CEO, JoeBen Bevirt, signed a strategic collaboration agreement at Joby's manufacturing facility in Marina, California. The agreement sees the two companies working closely on introducing UAM services in support of the South Korean Ministry of Land, Infrastructure, and Transport's "K-UAM" (Korean Urban Air Mobility) Roadmap, first announced in 2020.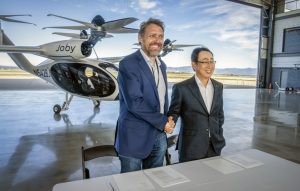 According to a Joby press release the partners intend to leverage SK's T Map mobility platform, Korea's largest mobility platform, and UT ride hailing service to provide multi-modal journeys to customers seamlessly integrating both ground and air travel. UT was established as a joint venture between SKT and Uber in 2021, bringing together SK's T Map platform and Uber's ride sharing technology. Joby and Uber have been collaborating since 2019.
Ryu Young-sang, CEO of SKT, commented, "By joining forces with Joby, we expect to accelerate our journey towards the era of Urban Air Mobility and lead the way on introducing this exciting new technology." He continued, "Collaborating with leading global companies is essential to securing leadership in future industries, which we are confident will be driven by the growth of UAM, autonomous driving, and robots."
JoeBen Bevirt, CEO of Joby, remarked, "With more than 42 million people living in urban areas, South Korea offers a remarkable opportunity for Joby to make air travel a part of daily life, helping people to save time while reducing their carbon footprint."
With a maximum range of 150 miles, a top speed of 200 mph, and a low noise profile that allows flight over urban areas, Joby's piloted aircraft is designed to make convenient, fast and emissions-free air travel.
While Joby's aerial ridesharing service will be operated directly by the company and offered to passengers via the Joby app or the Uber app in core U.S. markets, this partnership reflects Joby's strategy to collaborate with local companies outside the U.S.
SKT has been promoting the development of urban air mobility by leveraging its expertise in telecommunications, autonomous driving, precise positioning, and security to become a leading company in connected intelligence. As a member of the "UAM Team Korea", SKT is also working together with other major Korean companies to enhance the nation's competitiveness in the field.
For more information