Unmanned Airspace presents a round-up of the UTM research findings from 2022. We have tried to be as comprehensive as possible but will not have caught everything and would welcome any feedback on research breakthroughs we have missed. The following text is taken from The Market for UAV Traffic Management Systems 2023-2027, edition 6.01, available on January 13.  For feedback and more information on the report please contact the editor at philip@unmannedairspace.info.
Before regulators can put their stamp on the rules and permissions which will allow drone operators to gain swift and widespread approvals for regular, multiple, autonomous drone operations beyond visual line of sight (BVLOS) over people and at night they have to be sure that the technology is mature and robust enough to guarantee the safety of other airspace users and people on the ground. Researchers made some important progress towards this during 2022 – but there are still outstanding issues to be resolved in some critical areas, especially detect and avoid.
Single European Sky ATM Research (SESAR) research projects developed to validate different elements of edition four of the CORUS-XUAM Concept of Operations (ConOps) resulted in some important findings. A very large-scale demonstration in September at Grottaglie-Taranto civil experimental airport in Italy confirmed that the tested U-space services are mainly ready for emergency transport. Earlier flight tests held at Pontoise airfield in France simulating avoidance manoeuvres in three different real-world scenarios, have "proved that safe flight with urban air mobility (UAM) aircraft is possible".  But the wide range of SESAR UTM demonstrations also showed many technological issues were still unresolved.
The PODIUM project concluded that U-space services for the pre-flight phase are practically ready for deployment, but that significant action is needed to ensure that U-space services can really take off in the flight execution phase.
The ICARUS project proposed the introduction of Common Altitude Reference Areas (CARA) based on Article 15 of Commission Implementing Regulation 2019/947.
The DACUS project concluded the dynamic capacity management in UTM is now much better defined. Open questions impacting DACUS include how likely are contingencies; how uncertain/dynamic are U-plans? And how well does U-space tactical conflict resolution really work?
BUBBLES proposed a new tactical Separation Minima Service, where separation is calculated as a function of target level of safety, CNS performance and previous separation performance.
URclearED concluded deconfliction depends on predictability – either the manoeuvre is coordinated as TCAS or under ATC, or the manoeuvre follows pre-agreed rules. Sharing intent as part of detect and avoid (DAA) would be beneficial and having models of flight characteristics is a valuable step in designing tactical conflict resolutions.
USEPE identified 13 separation methods and nine performance criteria; from these it downsleteced five methods and four criteria for a more serious hybrid separation scheme: the "Dynamic Density Corridor Concept".
SAFIR Med validated the CORUS CONOPs and where problems were found, suggested fixes.
U-space 4UAM looked at how controllers might interact with drone flights and concluded special procedures are needed to control remotely piloted IFR as remote pilots might not be able to follow some ATCO instructions. An outstanding issue was the definition of U-space corridors for eVTOLs.
ASPID concluded U-space airspace design has to take into account neighbouring drone detection systems and processes; U-space airspace, surveillance and flight data should be exchanged with drone detection systems, including non-conformance.
AMULED found no big discrepancies found with respect to CORUS-XUAM ConOps Ed4 but suggested further research/discussions are required in airspace structure, such as architecture, vertiport flow management and flight rules.
Metropolis 2 looked at centralised and decentralised UTM architectures and recommended the best concept was a hybrid of the two.
AURA concluded a more nuanced view of the ATC-U-space boundary is needed with more use cases considered.
GOF2.0 demonstrated a unified air operation traffic management with high levels of automation serving both manned and unmanned aircraft in a safe, interconnected, distributed, interoperable, efficient, scalable and environmentally optimized manner. The new systems devised by developers as part of the GOF 2.0 project enabled drone operators to use the airspace in a flexible manner and already issued flight plans can be altered from the moment a request is made.
The SESAR ERICA project team demonstrated detect and avoid capabilities by manned and unmanned aircraft in live flight demonstration led by Saab and featuring UMS Skeldar and Trafikverket. The flight involving a manned aircraft and an unmanned SKELDAR V-200 UA showed that DAA technology is capable of mitigating the risks that have so far prevented manned aircraft from sharing airspace with unmanned aircraft.
In the last two-and-a-half years the INVIRCAT project worked to enable integration of RPAS into TMAs and airports. Its research showed that it is possible to integrate different types of RPAS in different types of airspace and at different airports under appropriate conditions. It considers the local traffic and environment without entailing a significant impact on the current airspace users. I
Other European UTM/U-space research programmes made substantial progress. "Mobile telephony is the answer to aircraft conspicuity – with conditions," according to Vladimir Foltin, European Aviation Safety Agency (EASA) Certification Manager and ATM Expert at the Drone Enable webinar hosted by ICAO on 14 September 2022. He said mobile telephony uses existing infrastructure and is affordable to new users. "Although aerial use is not explicitly forbidden, neither is it explicitly legal. Therefore, it still needs to be legalised by telephone coordinators and their regional regulators."
Meanwhile, from March until September 2022, High Tech Campus Eindhoven (HTCE) became the first Flying Forward 2020 (FF2020) living lab to successfully conduct demonstrations of autonomous drones. The use cases tested on campus involved building monitoring, surveillance of campus grounds, and last-mile delivery of goods, as well as emergency air delivery. The trials enabled HTCE to test-run the UAM ecosystem being developed by the FF2020 project partners.
At the conclusion of this demonstration phase, significant lessons had been learned and documented so they could be applied to future testing in the FF2020 living labs in the cities of Zaragoza, Milan, Tartu and Oulu.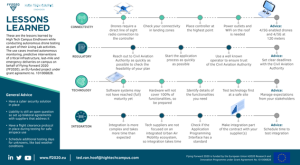 In the USA, findings from the Alliance for System Safety of UAS through Research Excellence (ASSURE) project A11L.UAS.91 were published in November. The publication presents the progress, findings, and preliminary observations on research tasks completed in the first of three years of this traffic analysis research project. The preliminary data has produced several insights into sUAS operations. First, clear patterns emerge in small UAS (sUAS) operations based on seasonal variations and time of day. Second, sUAS operations appear, for the most part, to be compliant with regulations for operations in proximity to airports. Third, sUAS retirement/abandonment rates seem to be high, especially after the first 3-4 months of use. Lastly, in general, the initial findings indicate that most sUAS operations conduct their flights in compliance with 14 CFR §107 regulations.
In December, NASA's Ames Research Center published findings from evaluations carried out in 2021 relating to the application of Role-Based Access Control (RBAC) concepts to UTM in the context of Department of Defense (DoD) operations.
The objective of this flight test was to determine the functions and features for a Federal USS. More specifically how a UTM COP can assist various users of a Federal USS and other integrated sources of data in decision making and communication. In this particular case, the focus was on interagency communication between UAS, ATC, and C-UAS operators. By creating a baseline FUSS and incorporating role-based access, the integration of C-UAS systems, and air traffic personnel, Federal operators can have better situational awareness and make faster, more optimal decisions. At the conclusion of the flight test, the following objectives were successfully demonstrated:
ASTM Standard USS-to-USS communication
Prototype Federal USS
Role-based Access
Interoperability messaging between operators
Situational awareness for operators
Common Operating Picture.
Based on the findings of this test and feedback from operators and stakeholders, NASA has recommended the following for future areas of research:
Further develop the Common Operating Picture to include additional Federal partners
Apply more usability research and incorporation of findings to further develop and refine the Common Operating Picture interface
Continue the exploration of Operations Center requirements for complex operational environments to include displays, visualizations, communications methods, scalable integration of more sensors and data sources, etc.
Inject manned operations into the scenario where operators can use a mobile device for situational awareness
Add additional ecosystem features such as LAANC to integrate with a FUSS
Expand the scope of research to integrate UTM, AAM, and ETM operations for a full capability demonstration
Collaborate with additional Federal agencies to pursue a more comprehensive National Capitol Region scenario.
In January NASA published an overview of its Extensible Traffic Management (xTM) research covering low altitude below 400 ft to high-altitude operations over 60,000 ft (designated as upper Class E airspace in the US). In October the FAA approved the New York Unmanned Aircraft Systems Test Site for BVLOS drone flights across the entire 50 miles of airspace within New York's Drone Corridor.  In November NASA's Ames Research Centre has issued a request for information (RFI) from industry for comments and feedback on its proposals for a Discovery and Synchronization Service (DSS) that satisfies UAM requirements. In December the FAA selected drone company Xwing in the Crosscutting Operations Strategy and Technical Assessment (COSTA) project, exploring the management of large commercial UAS and general aviation (GA) when transiting complex operating environments, such as Fire Traffic Areas (FTAs) during wildfire suppression events.
Elsewhere is the world, drone technology tests above the inland sea close to Okayama, western Japan, are helping to inform industry development following the loss of one unmanned aircraft in the sea. A consortium of five companies including All Nippon Airways (ANA) were undertaking tests in the area early in the year. A further flight was stopped shortly after due to deteriorating radio transmission signals.
In the UK, in November the UK Civil Aviation Authority (CAA) and Department for Transport (DfT) established the Surveillance Standards Task Force with industry to develop surveillance specifications, including a national, voluntary standard for Electronic Conspicuity (EC). The DfT and CAA will agree a programme of work to deliver a new EC specification in the UK, aligned to the aims of the Airspace Modernisation Strategy, to support the rapidly evolving needs of new airspace users and to provide additional safety benefits to airspace users in Class G airspace in the UK. Meanwhile, researchers at Cranfield University developed a collision avoidance algorithm for the detection and avoidance capabilities of drones. The proposed algorithm aims to ensure minimum separation between UAVs and geofencing with multiple no-fly zones, considering the sensor uncertainties.
(Image: Shutterstock)