The European Union Aviation Safety Agency (EASA) and McKinsey will publish a joint study next week on societal acceptance of urban air mobility, according to Maria Algar Ruiz, Drone Programme Manager at EASA speaking at the first Global UTM Association (GUTMA) 2021 Harmonized Skies webinar series, chaired by GUTMA Secretary General Secretary General, Koen De Vos.
This is the start of the next phase of work for EASA in the U-space domain following the April 2021 adoption by the European Commission of the U-space regulatory package (https://www.unmannedairspace.info/emerging-regulations/the-european-commission-adopts-the-u-space-package-finally/).
"We are working at full speed on acceptable means of compliance and guidance material and will start consultation on the draft by the end of this year, aiming for adoption very quickly after consultation," said Maria Algar Ruiz. It will include all aspects of the regulation from airspace assessments to different types of services and certification of the U-space service providers (USSPs)."  In parallel, a series of webinars will be organised in with industry and Member States to clarify points of the regulation, such as how to define U-space airspace in the Aeronautical Information Publication (AIP).
More demonstration trials of advanced services, especially in the UAM domain, will be required, so EASA will be working on adding additional results from these into the guidance material and further amendments of the regulation. The U-space demonstrator network will evolve to become the U-space implementation network. EASA is also preparing certification criteria for third country USSPs wishing to provide U-space services in the European Union. "We are also working with standardisation bodies and industry to help develop the standards that are missing, trying to identify what needs to be done and then develop them as quickly as possible," said Maria Algar Ruiz. At the same time, a monitoring and feedback loop of U-space implementation experiences will be developed.
Following the recent publication of the broadcast ID rule in the USA, the Federal Aviation Administration (FAA) is about to re-engage with industry on developing a network remote ID regulation, according to Jay Merkle, Executive Director of the FAA's UAS Integration Office. "Based on discussions within the FAA very soon you will see us start to engage industry in bringing UTM into a regulatory, oversight and delegation context." We have the ability in the USA to approve UTM today under individual applicants, he said, and we also know we have a domestic industry which is providing UTM services which don't require FAA approval. "In our concept 2.0 document we believe there are services which will be provided by the FAA  – on the air navigation service provider (ANSP) or regulatory side – and there will be services industry will supply for itself."
The FAA's NextGen organisation is looking at how UTM can support unmanned aircraft operating in controlled airspace where there are other aircraft under positive control of ATC – the final big step. The interim step is to develop rules for UAS flying beyond visual line of sight (BVLOS) outside of ATC control, where the market is currently going today.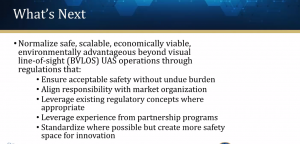 Reinaldo Negron, Head of Project Wing UTM, spoke of how we are now seeing multiple-provider UTM programmes based on interoperable data standards emerging around the world, with the new U-space regulation in Europe, Switzerland's SUSI programme, the UK's Connected Place Catapult UTM sandbox programme and in the final iterations of the FAA's UTM Pilot Program Two demonstrations. There are differences between these but also many similarities, which will allow for cross pollination across the board, said Amit Ganjoo, Founder and CEO of ANRA Technologies. "They all rely on standards and we must now identify the gaps and how can we can help fill those gaps and influence the rule making."
Network remote ID will be a mandatory U-space service in Europe 18 months from now, according to Thomas Neubauer Vice President of Innovations at TEOCO. The timing is critical. "We have provided the first network coverage service definition methods of engaging data between the UTM and mobile network operator (MNO) industries this year," he told the audience, as part of the work GUTMA and GSMA had undertaken to draw up standards of connectivity between aviation and MNO industries. "Australia recently issued a request for proposals for a flight information management system where connectivity is a mandatory requirement," he noted.