"We plan to have a UAM (urban air mobility) action plan in which we will tackle other things that have not been addressed at the moment. For that we will establish a task force…to have an action plan by the end of this year and to present it at the high level conference in January next year," said Maria Algar Ruiz, Drone Programme Manager at the European Union Aviation Safety Agency (EASA) speaking at the July 1 Amsterdam Drone Week virtual event.
Article 18 F of the European Commission's U-space regulation (https://ec.europa.eu/transport/sites/default/files/c20212671-u-space.pdf)  requires that the designated competent authorities shall: "establish a mechanism to coordinate with other authorities and entities, including at local level, the designation of U-space airspace, the establishment of airspace restrictions for UAS within that U-space airspace and the determination of the U-space services to be provided in the U-space airspace."
"We are thinking of a three-step approach in order to ensure the involvement of cities not only for the designation of the U-space airspace but also for the determination of U-space services…and any operational constraints they will need to be involved in," said Ken Englestad, Project manager Drones at EASA.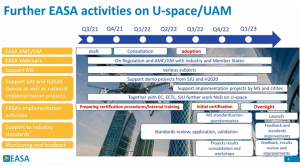 The U-space regulation was adopted by the Commission in April this year (https://www.unmannedairspace.info/emerging-regulations/the-european-commission-adopts-the-u-space-package-finally/) but a considerable amount of work is required to develop guidance to turn the high-level rules into operational and technical instruments.
"We have launched a steering group which is currently preparing the technical specifications by means of acceptable means of compliance to allow the industry and competent authorities to prepare for the implementation of the U-space regulation," said Ken Engelstad. "There is lot of work on-going with 15 work packages involving more than 35 experts representing different organisations and will come up with a proposal to EASA to support the regulation. This will be done in a fast track mode and we will be ready to publish a first set of proposals a notice of proposed amendment by December this year."
One of the stakeholder groups involved in this work is cities, he said, "because they crucial actors when it comes to UAM."
For more information
https://www.amsterdamdroneweek.com/
(Image: shutterstock/gualtiero boffi)