The European Aviation Safety Agency (EASA) has published a new means of compliance (MOC) for drones operated in the Specific category and limited to specific assurance and integrity level (SAIL) III and IV.
The MoC is only one means of compliance, allowing other MoC to be proposed for acceptance by the agency. This is due to the MOC following the functional test based (FTB) approach. If a drone has not be designed using appropriate standards, safety can be demonstrated by conducting a flying campaign using the standard ASTM F3478-20. This MOC explains how this standard can be used.
At the time of release of the EASA document, means of compliance (MoCs) for substantiation of requirements of the Special Conditions have not yet been adopted by EASA. EASA proposes to utilize extensive evidence from functional tests, as MoC for a significant subset of specifications of the SC. The approach is considered acceptable for UAS operated in SAIL III and below.
The SAIL represents the level of confidence that the UAS operation will remain under control. It is determined by a combination of the final/residual (i.e.: after mitigations have been applied) ground risk class (GRC) and air risk class (ARC), according to the following table: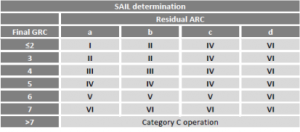 Access the MOC here
For more information visit: