By 2025, 76 per cent of European states will have national drone registration systems in place but only 41 per cent will have finalised their network remote identification services, according to the 2022 edition of the U-Space Services Implementation Monitoring report published by Eurocontrol.
The monitoring report assesses the progress made in implementing the U-Space services enabling VLL drone operations in the Single European Sky (SES) Member States Area. A dedicated monitoring tool integrating a tailored survey, conducted, and coordinated by the Eurcontrol Planning and Support (PAS) Unit, targeted all SES Member States to gather data related to implementation of 31 U-Space services; 148 representatives from EU SES national stakeholders were granted access to provide status of implementation progress, as well as to address medium-term planning information concerning the implementation of U-Space Services in the future in their national environment.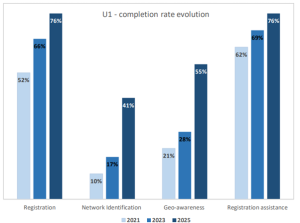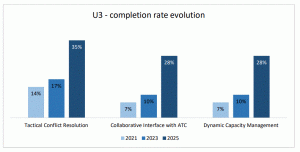 According to the report:
"Results of data analysis show variable progress in preparing for implementing U-space services across all levels (U1, U2 and U3) in SES Member States but, interestingly, the number of U-Space services reported as "planned" increased compared to the number in 2018, indicating a rising trend of stakeholders preparing to implement U-Space Services….Weather Information, Procedural Interface with ATC, and Accident/Incident Reporting are the Services with higher rates of implementation within this group. Conversely, the Geofencing provision, Conformance monitoring, Surveillance exchange and Navigation Infrastructure Monitoring have a lower rate of implementations."
EASA states are deploying U-space in four phases
Phase 1: Initial and basic services of the U-space, reflecting both the registration and the electronic identification as well as the geofencing system
Phase 2: Initial U-space services for flight management. This consist of the creation of a system for flight planning, permit approval, monitoring and conventional interaction with Air Traffic Controllers.
Phase U3: Support services for more complex situations within the U-space system, such as automation for the resolution of conflicts between aircraft that interfere with each other, as well as obstacle detection and avoidance functionalities.
Phase U4: Implementation of all U-space services, including high levels of process automation and interconnection between aircraft, pilots, authorities and other responsible and interested parties
As the report shows, there is considerable disparity between States in their speed of deployment – with just 28 per cent of those in the survey having key elements of U3 services such as collaborative Interface with ATC and dynamic capacity management in place by 2025, a date by which many drone operators hope to plan for automated beyond visual lone of sight (BVLOS) operations.
For more information
https://www.eurocontrol.int/sites/default/files/2022-11/eurocontrol-u-space-services-implementation-monitoring-report-2022.pdf
(Image:Shutterstock)