Frequentis, Stiftelsen Norsk Luftambulanse and Avinor won the Overall Excellence award at the ATM Magazine/CANSO ATM/UTM Awards, announced at Airspace World on March 8, 2023.
Avinor, Frequentis and The Norwegian Air Ambulance have developed an airspace management concept which allows emergency helicopters and drones to be safely and effectively integrated into traditional aviation environments. This should allow first responders to react more quickly and safely to emergency call outs, by sharing operational drone/UAS data from the UTM-system to the HEMS helicopter.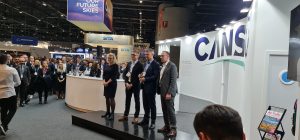 The Skypuzzler winning team
Start-up Skypuzzler ApS won Shaping our Future Skies category for its Automated Tactical Deconfliction of drones and other airspace users. The complex algorithm technology ensures flight safety and scalable use of autonomous drones; the real-time system continuously monitors the airspace around the drone for other drones and airspace users. When a potential conflict is identified, the system immediately makes the necessary routing or height adjustments via instructions to the drone's control software.
(Image: The Overall Excellence winners)