The US Federal Aviation Administration (FAA) has awarded a task order contract to Virginia Tech Mid-Atlantic Aviation Partnership in partnership with Lone Star UAS Center of Excellence and Innovation, Texas, to manage one of two FAA test sites for the UTM Field Test (UFT) project. NUAIR has been tasked with managing the New York test site.
Additional partners include Airspace Link, ANRA Technologies, ATA, LLC, Collins Aerospace, OneSky, Raytheon Intelligence & Space, Streamline Designs, Virginia Dept of Aviation and Wing.
The UFT project will conduct flight tests in complex environments including operations over people, at night, and among diverse missions, as well as test updates to UTM technology such as data correlation using remote identification and updated cybersecurity framework.
The UTM Field Test (UFT) project will field-test new capabilities and proposed standards that support small UAS operation in the real world.
The test outcomes will provide the FAA with information to support policy development and will help industry update standards to support routine BVLOS operations. Test infrastructure updated through field testing activities will allow for continued collaboration between the FAA and the UTM community and support maturation of UTM ecosystem. UTM Field Test will help improve UTM capabilities and services within UTM ecosystem.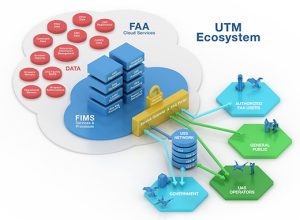 For more information visit: