SESAR research project SAFIR-Med technical meeting and open day on 1 September 2022 organised by the City of Aachen, Droniq and RWTH Aachen University features flight demonstrations from University Hospital Aachen to show fast and reliable transport of urgently needed medical goods.
During the technical sessions, policy makers and technical experts will share their view on the future of drone traffic in Germany and Europe with invited guests in the coronation hall, in Aachen, while everyone is invited to observe the SAFIR-Med flight demonstrations and ask questions to the experts from the different fields involving urgent (medical) transport by UAS.
Drone services companies INVOLI and Unifly are providing drone tracking and air traffic information in real time. The INVOLI drone trackers are installed on the drones, and then the data is integrated into the Unifly platform, to ensure the safety of the medical drone delivery operations. During SAFIR-Med demonstrations in Antwerp in June, the INVOLI Receiver G-1090 was successfully installed and broadcast real-time traffic data throughout the SAFIR-MED project.
August demonstration
SAFIR-Med trial flights on 25 August included a UAV traffic deconflicting demonstration. Drone companies HyFly and SABCA-UAS participated in this real life scenario, where drones operated by Helicus Command and Control Center were launched from the rooftops of two different hospitals in Antwerp. They were separated successfully by the UTM Service Provider SkeyDrone. This traffic deconflicting demonstration showcased the safe operation of UAV's in an urban environment.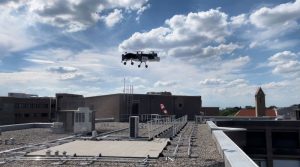 For more information visit: