Safety assurance company ResilienX reports completion of a prototype for a new capability to estimate the battery usage for a given flight plan, based on craft and battery characteristics and the forecasted wind profile. This research was made possible through a Phase II SBIR Extension contract funded by Spright, Pablo Air, and NASA. The research effort brought together a collection of partners in the uncrewed aircraft systems (UAS) industry to support flight testing in South Korea, Michigan, and at the Fort Monroe UAS Center of Excellence in Hampton, Va, says the press release.
The team was able to achieve results which accurately predicted discharge current from nominal flight operation information, exceeding 99% model accuracy for a current aircraft, trained with the flight data. The accuracy metric includes the sum of the discharge current time series function, when comparing the truth time series to that of the predictor, shown below.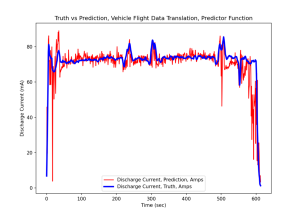 To test and validate BE-WindEE, flight plans were generated and a wind profile over the route was calculated by the TruWeather RouteCast service. Anemometers (wind sensors) were attached to each craft (Figure 2), far enough away to be unaffected by the rotors, to collect the actual wind data. Collected data was used to train the BE-WindEE ML models, which were then used to successfully predict the battery usage over the next set of flights.
"Our next step is to productize our new Battery Estimator for Wind Energy Efficiency (BE-WindEE) to support UAS operations at scale, across many different craft configurations and battery types," explained Andrew Carter, ResilienX CTO. "ResilienX will be collaborating with WindShape to capture and validate data for training methodologies using WindShape's Testing, Inspection, Certification, and Validation Center in Tulsa, Oklahoma. This will enable OEMs and operators to run through a battery of wind tests to validate their system performance, and if they choose, feed the data to train BE-WindEE. This would unlock the BE-WindEE service for their craft. Operators will also have the option to use BE-WindEE in conjunction with the ResilienX FRIAHMWORK safety assurance software to monitor for battery health issues."
"ResilienX's new Battery Estimator for Wind Energy Efficiency (BE-WindEE) supports UAS operations by ingesting wind forecasts and predicting battery discharge rates for craft while on a mission," explained Andrew Carter, ResilienX CTO. "The ability to accurately predict necessary downtime due to charging needs will create an opportunity for highly efficient scheduling and increase revenue for operators. These efficiencies will drive higher margins for operators who need to maximize the time the drone is in the air to make money."
TruWeather Solutions, a leading innovator for micro-weather sensing and decision insights, drove the wind forecasting models used by BE-WindEE to anticipate remaining battery life for the flight testing. Don Berchoff, TruWeather CEO said, "The ability to accurately predict necessary downtime due to charging needs will create an opportunity for highly efficient scheduling and increase revenue for operators. These efficiencies will drive higher margins for operators who need to maximize the time the drone is in the air to make money. Accurately forecasting the wind at low altitudes will enable these efficiencies and we are happy to deliver our wind service to meet this need."
PABLO AIR is a South Korean company and a leading provider of integrated drone solutions. They supported ResilienX as part of this NASA effort by conducting flight tests in both South Korea as well as Hampton, VA. The flight tests allowed ResilienX to validate their BE-WindEE prototype. Chanjoo Lee, Chief Operating Officer of PABLO AIR said, "as a drone delivery service and UATM (Urban Air Traffic Management) provider, through the prototype, we learned a significant opportunity in leveraging the ability to accurately forecast potential impacts between operational geographical conditions and operational decisions. We are excited about how this solution can enhance our operational capabilities and contribute to the development of urban air mobility infrastructure."
Blueflite, who earlier this year announced a new partnership for 40 units of their advanced logistics drone platform to Spright, also conducted flight testing in Michigan to support this NASA SBIR. "As a commercial operator our focus is to keep aircraft in the air," said Jim Rector, VP of Operations for Spright. "There are several components to that operational challenge and expanding our understanding of wind and battery consumption on our service models will increase our ability to serve customers efficiently."
For more information visit:
www.resilienX.com