CenterState CEO and a coalition of 57 public, private, nonprofit, academic and for-profit entities across Central New York and the Mohawk Valley joined together to submit a phase two application for the Build Back Better Regional Challenge (BBBRC), a central component of the US Economic Development Administration's American Rescue Plan. These coalition partners proposed nine distinct and interconnected projects that would leverage more than USD143 million against a federal investment of USD92 million to advance opportunities in the region's emerging "smart systems" cluster, while also integrating large-scale workforce development programs to ensure that regional growth is inclusive and equitable.
"Funding through the BBBRC would accelerate the commercial application of drones in the healthcare industry, providing cost-effective, contactless delivery solutions while improving healthcare equity for underserved populations and others in need. Additionally, these efforts will minimize negative impacts on service delivery and manpower shortages due to future crippling events such as pandemics and supply chain disruptions," said Ken Stewart, CEO of NUAIR. "Through the BBBRC, along with our long-term partner SUNY Upstate Medical University Hospital, we will be able to develop and deploy scalable drone delivery operations, creating jobs, having a positive economic impact on the state, providing quality services to a wider range of community members, bridging health equity gaps."
According to the press release:
Through this competitive application, coalition partners have highlighted the region's unique strengths and assets that will enable it to help America innovate, re-shore, and develop critical advanced manufacturing and supply chain networks. The development of shovel-ready real estate and infrastructure will support and attract a wide range of advanced manufacturing companies and accompanying supply chain firms. Based on the high potential of existing assets to meet specific industry needs, particular emphasis is placed on the semiconductor computer chip sector, which aligns with federal efforts to re-shore advanced manufacturing supply chains critical to ensuring national security and resilience.
Coalition partners have been engaged in regional efforts for the past decade or more to develop and advance strategies that leverage strengths in sensing technologies to build a globally leading uncrewed aircraft systems industry. Through this proposal, partners are well positioned to continue to advance smart systems projects that highlight the region's successful efforts to drive results through collaboration and targeted strategies.
In today's digitally connected world, the ability to manage, sense, analyze, and interpret data and information in real time has become essential for making the human and autonomous decisions necessary for commerce to thrive. The technical and analytic capabilities that make this possible serve as the backbone of CenterState NY's growing information technology Smart Systems cluster. These core industrial capabilities are being deployed in the region to solve real-world problems in market verticals that are critical to national economic competitiveness, including semiconductor chip manufacturing and unmanned systems technology (UST), radar and sensing, internet of things (IoT), and 5G telecommunications. Cluster growth interventions are intentionally designed to drive equitable access to opportunity for all the region's residents.
This phase two application follows the region's successful phase one application that was announced in October 2021. The region's proposal was selected as one of 60 finalists from more than 500 nationwide applications.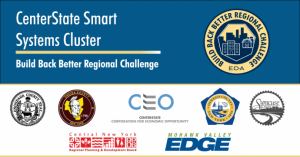 (Image: COVID-19 Test Kit Delivery via Drone in Syracuse with NUAIR, SUNY Upstate & partners )
For more information visit:
www.nuair.org