On October 20 2022 the European Aviation Safety Agency (EASA) launched a new publication which explains and simplifies the role of actors in the European U-Space concept.
According to EASA:
"Member States and EASA Cooperate in designing safely, secure and in an environmentally friendly manner the U-space airspace:
EASA
defines the U-space concept to include all the services required to ensure it operates effectively, safely and securely
provides certification requirements and means of compliance and certifies some USSPs
supports and promotes its implementation.
Member States competent authorities
establish the zones where U-space is deployed within the national airspace of that State
define the performance requirements
manage the scalability of the service to deal with growing volume of drones
certify USSPs based on EASA requirements
ensure that Common Information Services (CIS) is available as a single source of information for U-space".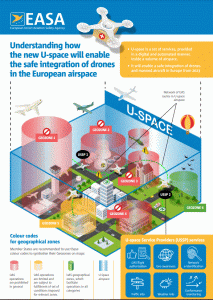 For more information
https://www.easa.europa.eu/en/document-library/general-publications/understanding-how-new-u-space-will-enable-safe-integration
https://www.easa.europa.eu/en/downloads/137156/en