The SkyLink Unmanned Aerial System (UAS) team in partnership with the Place Companions team, has completed a trial that would enable Beyond Visual Line of Sight (BVLOS) drone medical delivery flights at a 5G site using SkyLink UTM micro providers and UTM cloud platform powered by ASTRA UTM. This provided integrated oversight of live UAV telemetry data from the project drones with other simulated drones and real manned aircraft activities near the 5G test site, according to the SkyLink press release.
The system enabled simultaneous operations in a safe manner via flight authorisation and traffic information provided over the OPTUS 5G mobile data network in Victoria Australia. The operations were also remotely monitored from one of SkyLink UAS regional Australia UTM air traffic control centres in Armidale NSW, using SpaceX Starlink Satellite internet.
The 5G UTM trial is part of an overall project funded by the Commonwealth and led by FrontierSI to demonstrate applications of precise positioning using 5G in agriculture and drone flight.
The trial was the result of strong collaborative effort from all groups together with FrontierSI, OPTUS, Place Companions, SkyLink UAS, Quantum Methods, ASTRA UTM, AirMarket, SIMNET and other project partners. An operations scenario was developed using four artificial drone flights and up to three real drones at the 5G test site. Manned aircraft in the area were monitored using an ADSB and MLAT receiver network. All airspace conflicts were detected by the UTM System and then were solved by altering flight plans for UAVs still on ground and airborne in real time. The scenario gained additional complexity due to the diversity of the UAVs used for the 5G Innovation Initiative project, and considerable manned aircraft activity in the Melbourne greater area.
The UTM trials demonstrations started in May 2022 with all project partners following the SkyLink UTM flight request operations procedures and workflow. The first joint physical flight test took place on 17th May in Mannerim, Victoria Australia, with two to three simultaneous drones in the air. A series of integrated UTM demonstrations took place during the three-day trials.
With 5G latency testing from the Quantum Systems Trinity F90+ drones Remote ID board and companion computer delivering real-time RTK GPS positioning data back to the UTM Cloud and Position Partners GPS NTRIP correction services delivered over the 5G network to the drone RTK GPS. Additionally, during pre-start planning a simulated de-risking exercises took place where five simulated drones connected to the central UTM system and started their autonomous missions operating around the area of the 5G test site.
Partner SIMNET programmed simulation via its Cloud Drone Simulator, using VLOS and BVLOS complex real-time simulation of the UAV in the loop to provide realistic telemetry and positional data to the Position Partners RPAS Operators, as well as to the SkyLink UTM system supporting USSP (U-Space Service Providers) tasks. The trials of the artificial drone to real drone conflicts and real manned aircraft conflicts were successfully detected by both SkyLink Remote Command ATC Centre in regional Armidale NSW and on site by the drone operations crew. These conflicts were then solved in real-time and in an orderly fashion by changing flight altitudes or adapting departure times (change in the flight authorisation, then, instructions given to drones pilots). The necessary telemetry data for all drone flights were forwarded to the SkyLink UTM ATC dashboard which makes operations visible for other operators to ensure situational awareness and safe operating environment overall.pic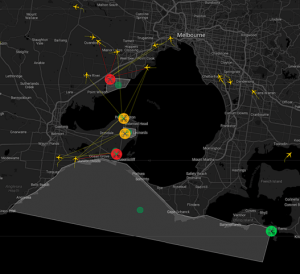 (Image: Luis Elneser, 5G Project RPAS Coordinator, courtesy of Dan Woodrow, FrontierSI)
For more information visit: