Australia's Department of Infrastructure, Transport, Regional Development, Communications and the Arts has developed infrastructure planning guidelines to support the safe, secure and environmentally-considerate integration of drones and electric vertical take-off and landing (eVTOL) vehicles into communities and broader transport networks.
The guidelines are available here
The framework provides a set of guidelines to support nationally consistent infrastructure and planning decisions relating to emerging aviation technologies. It provides guidance for planning authorities to understand the implications of emerging aviation technologies and make informed decisions for their communities.
The document steps through the regulatory requirements for drone operators and provides guidance for planning authorities to make informed decisions when assessing existing or proposed land use for drone delivery services in their local community. They are intended to complement a range of other policies and programs to address community concerns and support the responsible development of the emerging aviation technology sector.
A demographically and geographically representative survey of the Australian population offers valuable insights into public perceptions of drone delivery services
Out of 1,000 respondents asked about their level of interest in drone delivery services, 58% indicatedsome level of interest, 23.2% remained neutral, and 25.9% indicated some level of disinterest (Figure 1).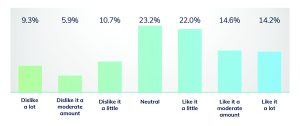 Figure 1: Level of interest in drone delivery services
Respondents were also asked about their level of interest in using drone delivery services. Of the 51.6% of respondents that indicatedthey are somewhat likely or highly likely to use drone delivery services, approximately half (50.7%) indicated they would use the service once a fortnight or more
Sixty-three per centindicated that they support the use of small-scale drones where they offer value, which increased to 79% for specialised high value cases, such as medical deliveries.
In relation to the statement, "I don't want to see drones commercially deployed in practice at all", 23% of respondents agreed or strongly agreed, 39% neither agreed or disagreed, and 28% disagreedor strongly disagreed (Figure 2).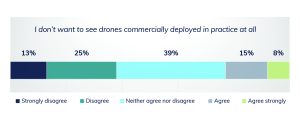 Figure 2: Level of support towards small-scale drones being used for commercial applications
Respondents' preferences for different delivery methods and items across market segments are illustrated in Table 1.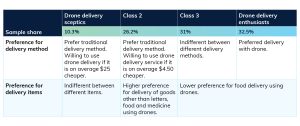 Table 1: Preferred delivery method and items across different market segments
The survey also measured relative level of community concern about the potential impacts of small-scale drones.
It found 'invasion of privacy', 'disturbance to wildlife' and 'safety risks to the general public' were the most concerning factors, while 'noise pollution', 'disturbance to cultural sites' and 'reduce the beauty of the sky' were the least concerning factors
Some of the keywords mentioned more frequently when respondents were asked open-ended questions regarding the relative challenges of increased small-scale drone uptake for their community were 'privacy', 'noise', 'invasion', 'safety' and 'jobs'
For more information visit: