"The potential for an airborne collision between a UAS and other aircraft is an area of growing safety concern, due to the increasing accessibility of UAS," according to the latest review of aviation safety by the European Aviation Safety Agency (EASA).
"It is important to note that UAS-related reports are mainly provided by the CAT (commercial air transport) aeroplanes and ATM/ANS (air traffic management/air navigation services) domains. As soon as reports from UAS operators become more common, the safety issues relating to this type of aircraft will become more apparent.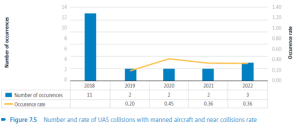 "Figure 7.5 shows the number of occurrences and the occurrence rate which is calculated by taking the number of IFR flights in the Member State area and the number of UAS occurrences into account. In this chapter, a UAS occurrence refers to accidents and serious incidents where at least one manned fixed-wing or rotary aircraft was involved, and the event resulted in an airborne collision or near airborne collision with a UAS. A slight increase from two to three occurrences was recorded in 2022."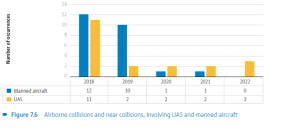 Figure 7.6 compares UAS and manned aircraft involved in airborne collisions and near collisions. Since 2018 the number of accidents and serious incidents involving UAS decreased and kept low in 2019, 2020, and 2021 and had a slight increase in 2022, while no occurrence with manned aircraft of this event type was recorded in 2022.
For more information
https://www.easa.europa.eu/en/document-library/general-publications/annual-safety-review-2023
(Image: Shutterstock)