By Eduardo de Vasconcellos
RPAS Ops Consulting
https://www.linkedin.com/in/eduardo-de-vasconcellos-7a655a/
According to the document:
"Panorama AAM brings a portrait of the development phase of the equipment, its differentiations, the technologies applied, the barriers to be overcome , the role of ANAC in enabling the market to develop the best solutions aligned with the safety of equipment and operation , and how Brazil can be at the forefront of regulation.
"In the market, there has been a consensus that there are still challenges , such as the implementation of air traffic management systems, the limitation of the autonomy of electric batteries and the physical structure such as " vertiports " . The main manufacturers foresee the beginning of eVTOL operations for 2025-2028."
In the 35-page document, opened by introductory and contextualization remarks, ANAC starts off with a discussion of its view on the main AAM ecosystem entities – the aircraft, the use cases, the technologies, and the infrastructure – the issue of inflated expectations on the emerging sector, and the major challenges faced today by the industry, regulators, and other stakeholder groups.
Among the main challenges discussed, are – the hype cycle and maturity, development and certification, production, infrastructure, operating costs, investments, and impacts on air traffic control. ANAC then goes on to discuss the extent to which the three areas of regulation – normalization, certification, and oversight – are or can be impacted by current and proposed use cases and implementations of AAM.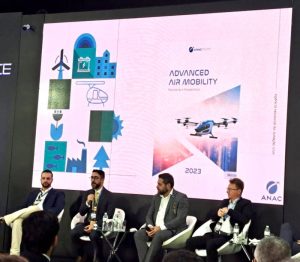 Moving from a general discussion mode to more certification-related topics, the Agency´s specific responsibility, the document goes on to present ANAC´s certification roadmap, its current and future stages, including summary information on EVE´s and Lilium´s request for certification of their current implementations before the Agency, in coordination with the FAA and EASA, and the Certification Oversight Board eVTOL Task Force.
Based on their view and studies on where global AAM is going, and on the experience acquired through working with EVE and Lilium, a set of internal actions is described, followed by a set of local and international coordination actions, to also involve ICAO, and certain ASTM, SAE, and EUROCAE standardization groups, committees. Cooperation agreements with other CAAs, as well as a communications plan with the various AAM-related institutions and stakeholders are also part of their short-term activities.
According to the report:
"Panorama Advanced Air Mobility is an open letter from ANAC to society, presenting in a simple, uncomplicated and realistic way what has been done so far and some of the main challenges for the wide use of this new means of transport, ranging from equipment certification, the qualification of maintenance professionals and pilots, to the structures of navigation and operation." 
For more information
https://www.gov.br/anac/pt-br/noticias/2023/anac-apresenta-panorama-inedito-sobre-mobilidade-aerea-avancada-e-evtols