Airservices Australia has published a request for information tender to industry for the supply of an uncrewed aircraft surveillance system covering 29 airports in Australia where the organisation provides services.
According to the text of the tender:
"This Request for Information (RFI) has been prepared and released by Airservices Australia (Airservices) for information gathering of market capabilities and insight for a subsequent procurement process. Work is currently underway at Airservices to prepare our skies for the safe integration of uncrewed aircraft. We are enhancing our existing drone surveillance capability to keep pace with technology to ensure we have a clear picture of uncrewed aircraft systems (UAS) operating around our airports and to safely manage airspace, through the delivery of an Airspace Surveillance Solution at our 29 controlled airports. The new system is targeted for operationalisation by the end of 2025."
The latest  Australian Aviation Network Overview  reports a recent spike in activity of small drone operations in around the country's major airports.
"There has been a net increase in drone detections within the No Fly Zones of major airports," according to the overview. "The increase in micro drones may suggest that smaller drone technology is gaining market momentum, as their features and capability catch up to those found in larger products and their barriers to operate across metropolitan locations are lower. Government and industry cooperation is progressing trials and enhancing surveillance capability to ensure the safe integration of drone activities and protect the overall aviation network."
Breakdown of drones detected within No-Fly Zones* at major Australian airports by size(July-August 2023)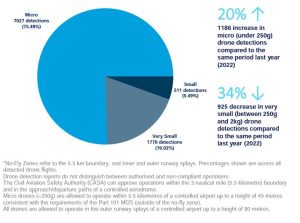 Tender information
ATM ID:
ASAMASSRFI2023
Agency:
Airservices Australia
Category:
46171600 – Surveillance and detection equipment
Close Date & Time:
31-Oct-2023 5:00 pm (ACT Local Time)
Show close time for other time zones
Publish Date:
19-Sep-2023
Location:
ACT, NSW, VIC, SA, WA, QLD, NT, TAS
Canberra, Sydney, Melbourne, Adelaide, Perth, Brisbane, Darwin, Hobart
ATM Type:
Request for Information
https://www.tenders.gov.au/Atm/Show/d1d6eb27-e18e-445d-b5f6-f8ffbe8c559e
https://www.airservicesaustralia.com/wp-content/uploads/Aviation-Network-Overview-Report-July-August-2023.pdf
(Image: Shutterstock. Yellow orange Cirrostratus sunset over a Commercial Jet Aircraft, taxiing in on the tarmac at Sir Kingsford Smith Airport. Aeronautical background photo. Mascot, Sydney, New South Wales, Australia.)