By Philip Butterworth-Hayes
A Russian Zala Aero KUB kamikaze drone has been shot down by Ukranian forces in the Podilskyi district of Kyiv, according to Ukranian defence industry news website Mil.in.ua https://mil.in.ua/en/news/ukrainian-army-downed-russian-orlan-10-uav/.
The KYB-UAV is a "loitering" drone which can be equipped with a variety of weapon payloads (ball bearings surrounding an explosive charge in the case of the unit shot down in Kyiv, according to the website). It has an endurance of 30 minutes and a flight speed of up to 120km/hr.
This is the first time this type of Russian strike drone has been reported to be in use in Ukraine and marks a probable escalation in drone use.
According to Belgian defence analyst Tim De Zitter, writing in a Linkedin (https://www.linkedin.com/pulse/update-russian-drone-operations-we-have-seen-18-days-war-de-zitter/) post :"In the earliest phase of the conflict it seemed as if the Russian advance lacked ISR/combat UAVs that should have been part of their regular CONOPS/TTPs as defined by training, exercises, and military deployments to Syria and Nagorno-Karabakh….As the Russian military adjusted its operations, tightened supply and logistics, and continued the advance from Crimea, Donbass and south to Kyiv and Kharkiv, more evidence emerged of Russian drones in ISR and target acquisition capacity. On Mar 9 Russia's Izvestia released footage from a ZALA-421-16E5G UAV showing Russian artillery strikes on Ukrainian positions in Mariupol. Downed Orlan-10s, captured Eleron-3s and Eniks target UAVs evidence that the Russian military is returning to its concept of operations where UAVs scout the area, report adversary movements and positions, and provide coordinates for artillery, MLRS and airborne assets."
The Orlan-10 UAV, with a range of up to 120 km, makes up the largest share of the Russian drone fleet. Mil.in.ua reports that this drone has been in operational use in the Donbass region for some months; Ukranian forces have successfully intercepted a number of Orlan-10s as a result of jamming by Ukrainian Trytel Nota electronic counter measure systems, says the website.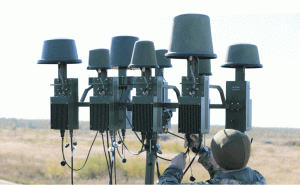 Trytel Nota electronic counter measure system – image Mil.in.ua
According to Tim de Zitter other UAVs, such as Zastava, Eleron-3, Takhion, Granat, and ZALA, currently in service, provide ISR coverage at the tactical level, with a range between 12 and 100 km, giving Russian forces extended coverage of the battlefield.  Meanwhile, Russia also has combat UAVs (CUAVs) in its arsenal – most notably the Orion/Forpost-R UCAV, a medium altitude long endurance UAS which is a licensed produced version of the Israel Aerospace Industries Searcher UAV, with combat capability recently demonstrated during Zapad-2021 drills with Belarus.
Please note: this article has been written on the basis of third-party reports.
(Main image: The Russian Zala Aero KUB kamikaze drone shot down by Ukranian forces – image Mil.in.ua)
For more information
https://mil.in.ua/en/news/a-russian-kamikaze-drone-was-shot-down-in-kyiv/
https://zala-aero.com/en/production/bvs/kyb-uav/