Pierce Aerospace has announced that it worked with the Department of Homeland Security and other federal, state, and local agencies to deploy Remote ID to support the NFL's Super Bowl LVII.
This is the first instance of Remote ID utilization in operational support of a National Special Security Event, according to a company statement.  "Pierce Aerospace deployed its Bluebird Remote ID Receivers and B1 Remote ID Beacons around State Farm Stadium to support airspace operations for NFL coordinated broadcast flights, a commercial drone swarm, and in support of law enforcement drone flights and operations.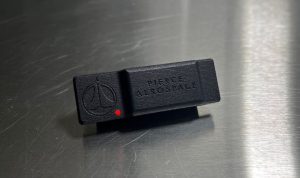 The remote ID beacon
"Pierce Aerospace provided its ASTM F3411-22 compliant B1 Remote ID beacons to pilots for FAA-approved commercial drone flights and law enforcement drone operations. Bluebird Remote ID Receivers were deployed around the stadium and used to successfully detect, track, and identify the equipped drones in the week leading up to the Super Bowl and on game day. Using COPERS, a web-based situational awareness tool developed by KBR, Inc., local broadcast messages collected by the Pierce Aerospace's Receiver Network and Remote ID data feeds were routed to COPERS for airspace activity monitoring. COPERS, which stands for Command Oversight or Personnel, Equipment, Response and Situation, was made available to federal and local law enforcement end users across security command elements to monitor the Remote ID data feeds both on-site and remotely."
"We've been working with the Department of Defense since 2018 to take local broadcast Remote ID messages and network them to various tiers of end users in DOD experimental events. It was exciting to take the institutional knowledge that we've developed over the years and deploy it for the first time in support of real-world national security operations at the Super Bowl," said Aaron Pierce, CEO of Pierce Aerospace. "This was an operational test of Remote ID before officially rolling it out as an FAA regulatory requirement in September. I'm happy to share that this deployment emphasized 'operational.'"
"Pierce Aerospace's Remote ID products and their integration capabilities helped ease the Command and Control of the Super Bowl LVII Temporary Flight Restriction [TFR] when it came to authorized vs unauthorized UAS operations," said Greg Bean, Special Operations Security for the FAA. "We look forward to the full roll out of the FAA's Remote ID rule in September 2023."
"KBR was excited to provide COPERS to Pierce Aerospace as the display provider and common operating picture for their Remote ID capability at the Super Bowl," said Preston Hoeve, COPERS Principal Investigator for KBR. "COPERS provided multiple layers of distributed government stakeholders with a means to oversee the airspace data streamed from Pierce Aerospace's sensors at the Super Bowl. KBR looks forward to continuing to work with Pierce Aerospace to provide this capability to local, state, tribal, and federal stakeholders enhancing the safety of their communities."
Pierce Aerospace engineers extensively tested Remote ID in flight and ground tests leading up to the Super Bowl in and around the State Farm Stadium area, said Pierce Aerospace. Ground testing continued in parallel to flight operations on game day itself. Pierce Aerospace engineers used both Pierce Aerospace and commercially available third-party developed Remote ID Android applications to successfully detect and track the company's B1 Beacons inside State Farm Stadium during the Super Bowl and during the halftime show.
"To our knowledge, this was the harshest stress test that Remote ID has seen to date," said Pierce." Nearly 73,000 fans were inside that stadium. All with cell phones and other WiFi and Bluetooth emitting devices, many of whom were streaming or uploading photos and video during the halftime show. We're happy to share that our engineers successfully detected and tracked our Remote ID beacons with phones inside the stadium during this high-noise floor event."
For more information
(Images: Pierce Aerospace)