AT IDEX 2023 Russia's Rostec displayed a number of new variants of its counter-UAS range of products, including "the Repellent, Repellent-Patrol, RLK-MCE, RB-504P-E and RB-504A-E, as well as the Pischal-PRO portable system," according to the company.
The Pischal-PRO was prominently displayed. According to a report in the Defense Mirror news channel: "The Pishchal-Pro complex is manufactured by the Avtomatika concern, part of Ruselectronics. It provides countermeasures to drones at a distance of more than 2 km and operates simultaneously in five frequency bands, which significantly reduces the time to select suppression parameters."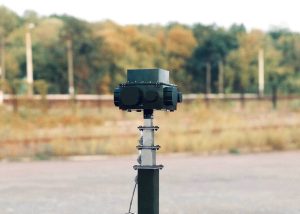 Serp-VS
Just a few days before the IDEX exhibition Ruselectronics reported it had completed a trial run of Serp-VS drone suppression systems at a Russian fuel and energy facility. "The devices installed at the oil company site have prevented drone intruders from appearing in a restricted area. Serp-VS is capable of operating remotely offline and protecting both mobile and fixed facilities," said the company. "Serp-VS developed by Vektor Research Institute, Ruselectronics holding, is capable of suppressing drone communication, control and navigation links. The system can affect global positioning satellite system signals – GPS, GLONASS, Galileo and BeiDou – as well as 2.4GHz and 5.6GHz UAV control signals used in Wi-Fi networks. Drone suppression in 360° on a horizontal axis is one of Serp-VS advantages. The device impacts a drone intruder vertically in a sector from -10° to 80°. Controlled sectoral suppression is also provided. Operating conditions in each of the four azimuth sectors are set independently.
"The input power is up to 150W and the range is up to 3 km. Communication with the system control station is provided via Ethernet."
For more information
https://rostec.ru/en/news/rostec-s-antidrone-systems-have-protected-an-oil-company-against-uavs/
https://www.defensemirror.com/news/33689/Russia_Presents_Lightweight_Anti_Drone_Gun_at_IDEX_2023#.ZAOJ6nbP02w
https://rostec.ru/en/news/rosoboronexport-to-propose-new-joint-industrial-cooperation-projects-at-idex-2023/
(Image: Rostec)