The head of Italy's prison administration department (DAP) Giovanni Russo, and the director general of the national civil aviation agency (ENAC) Alessio Quaranta, have signed a memorandum of understanding which lays the foundations for the surveillance of prisons by drones, according to The Penitentiary Police Society of Justice and Security
"Present at the signing of the agreement were the president of ENAC, Pierluigi Di Palma, and the heads of the Penitentiary Police Corps of the Security and anti-drone systems section of the DAP, the manager Antimo Cicala and the inspector Ferdinando Vertucci," said the organisation's news service. "The agreement will serve to regulate the cooperation and exchange of information between DAP and ENAC and to establish principles and methods of use of the UAS of the Prison Administration.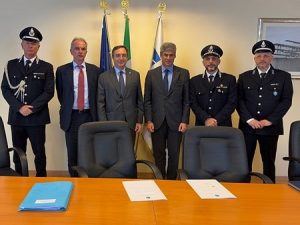 "In particular, the level of vigilance will be increased thanks to the aerial surveillance of the external and internal perimeter of the institutes and it will be easier to carry out monitoring activities in the event of internal riots by prisoners or protest demonstrations outside the walls by part of organized groups.
"The use of drones will also make the search for escaped prisoners more effective and the hunt for other drones used to smuggle illegal objects into prisons more effective. Finally, it will be easier to monitor the state of penitentiary facilities, security systems and building interventions from above.
"For us it is a very important agreement," explained the head of the DAP Giovanni Russo,"to control the airspace above the institutes and above all to counter the illegal introduction of telephones, drugs and sometimes even weapons that are delivered through the use of drones. On the other hand, when these new technological scenarios open up, it is also necessary to reflect on the fact that crime, especially organized crime, immediately tries to infiltrate them.Therefore it is necessary to adopt suitable countermeasures to prevent and counter these threats".
"It is the first wide-ranging agreement with a police force," said the director general of ENAC Alessio Quaranta, "since the others we have signed are more of a technical-operational nature. Precisely its breadth will allow for a whole series of spin-offs for the future, with which it will be possible to expand and improve collaboration with the Prison Administration".
According to the news source, the protocol – which lasts three years – identifies a series of predefined scenarios in Visual line of sight (VLOS) and Beyond visual line of sight (BVLOS) missions. The piloting of drones will be entrusted to personnel of the Penitentiary Police Corps qualified by the APR Center of Excellence of the Air Force or in possession of specific qualifications issued by training bodies recognized by ENAC.
"A specific provision by the Head of the DAP for the organization of the service will be launched shortly."
(Image:Shutterstock)
For more information
www.gnewsonline.it
Accordo DAP – Ente Nazionale Aviazione Civile per la sorveglianza delle carceri con i droni