The Wall Street Journal reports that Israel was responsible for the drone attack on a munitions factory next to a facility belonging to the Iran Space Research Center, which is under US sanctions for its alleged work on ballistic missiles.
According to the Times of Israel: "The American newspaper says the strike was the first to be carried out by Israel since Prime Minister Benjamin Netanyahu returned last month, adding it comes amid talks between Jerusalem and Washington on new ways to counter Tehran."
On 28 January, the Iranian Defense Ministry reported that its air defence units have repelled a drone attack on a military workshop in the central city of Isfahan, according to Iran's Islamic Republic News Agency. "The ministry stated that one of its workshop complexes had come under attack from a number of Micro Aerial Vehicles (MAVs), but the complex's air defenses successfully repelled the attack. It said the attack had no casualties and only caused slight damage on the roof of the defense equipment facility.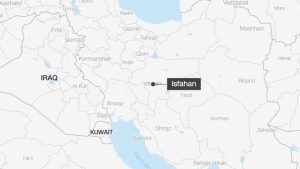 "Three advanced quadcopters equipped with bomblets were used in this attack, and the security forces stationed in the complex, after hearing the sound of quadcopters, tried to counter these MAVs, which succeeded in intercepting one of them, informed sources told IRNA….One of these quadcopters loses its GPS communication link due to jamming during the confrontation, leading to its falling and hitting the roof of a workshop."
For more information
https://www.wsj.com/articles/israel-strikes-iran-amid-new-international-push-to-contain-tehran-11675004979?mod=hp_lead_pos10
https://www.timesofisrael.com/liveblog-january-29-2023/
https://en.irna.ir/
(Image Tehran, Islamic Republic New Agency (IRNA)