The Unmanned Aircraft Department at the DLR Institute of Flight Systems has released details of its research into technologies to ensure protection against illegally operated drones. The Counter-UAS Demonstrator (CUDO) research focuses on the detection and interception of the aggressor within the protected area, transport away from the scene and neutralisation using a counter-UAS – all without endangering bystanders.
As the DLR explains, ground-based solutions often have a short range and long response times, so the aggressor should be removed from the protection zone by a C-UAS. Depending on the mission scenario, this C-UAS may cause the aggressor to crash or capture it with a grappling system, secure it and transport it away.
As part of the project, scaled C-UAS were built as prototypes in order to investigate the necessary boundary conditions. The focus is on intercepting the intruder through airborne contact. The prototypes that have been developed are characterised by their high speed, agility and extraordinary resilience and robustness.
The Drone Defense project researches technologies and their linkage to provide cost-effective protection against illegally operated drones. The focus of this research is a complete system for defending against illegally deployed drones, from the detection of an undesirably operated drone to its safe removal. The core component of this concept is the use of defense drones that have gripping mechanisms. In this way, the illegally operated drone can be safely removed. In this way, countermeasures should also be possible in the vicinity of crowds.
The core components of the system include:
Interceptor drone and test vehicle
Detection and Interception
Fix and remove.
Video details here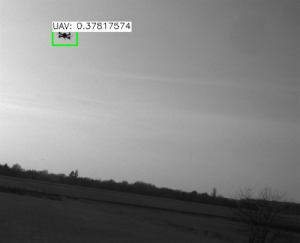 Detection of a target drone in the camera image of the interceptor using deep neural networks calculated on board (source: DLR)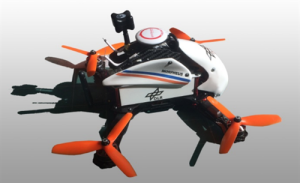 First technology demonstrators of a highly agile interceptor drone with an onboard camera and AI-capable computing technology (Source: DLR)
Experiments with interceptor drone and collision as mission objective (Source: DLR)
For more information visit: