By Philip Butterworth-Hayes
This year's Defence and Security Event International (DSEI) exhibition marked further progress in counter-UAS technologies being able to detect and mitigate small drone threats at long range.
Blighter Surveillance Systems launched its A800 3D multi-mode drone detection radar at DSEI 2021; the radar uses multi-mode surveillance capability usually reserved only for large-scale radar systems and packaging it into a smaller, more flexible radar with a maximum range of 20km.
According to the company:
"The A800 3D multi-mode radar is ideally suited to border and perimeter surveillance, capable of being mounted to fixed towers and masts, as well as to land vehicles and mobile surveillance trailers. This will be the first time that the A800 will be available to view in person. The radar's main function is to detect and locate consumer 'hobby' drones in 3D space. The radar's optimised air security mode provides a unique ability to search for low-slow-small (LSS) threats caused by the misuse of small drones including the commonly used 'DJI Phantom' style quadcopters. An Artificial Intelligence based micro-doppler target filtering feature helps to reduce false alarms and improve the detection of multicopter and winged drones."
Blighter was recently selected to provide advanced integrated B400 series target acquisition radars for a fleet of Armoured Fighting Vehicles.
HENSOLDT introduced its newly developed 'Quadome' radar system for naval surveillance and target acquisition at the show. The dual-mode, multi-mission surveillance radar features fast detection and tracking of small, slow and fast targets offers a reliable and stable air picture, with fast track initiation to support longer effector keep-out range. The new-generation radar features the latest gallium nitride (GaN)-based active electronically steered antenna (AESA) technology and is software-defined.
"'Quadome' features two main operational modes to simplify operator interaction and to reduce operator workload. Surveillance mode is used for general surface and air surveillance while the self-defence mode is employed for high-threat situations and target engagement, with helicopter support continuously available in either mode."
Another naval C-UAS unit making its debut at the show is the METIS Aerospace SKYPERION marine drone detection system, which provides early warning of drone incursions by identifying and locating RF data signals on vessels at sea, anchorage or in port. The system features autonomous detection, alerting tracking and identification; advanced warning of multiple threats with low false alarms; a simple user interface; remote monitoring and integration with an RF jamming module.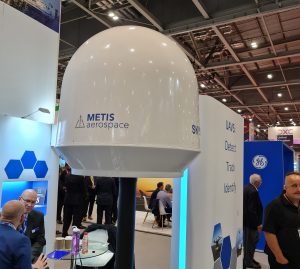 The METIS Aerospace naval version of the SKYPERION
Elsewhere, IXI launched its wide-angled static counter-consumer drone system which provides up to 360 degree interdiction of consumer UAS and other target emitters. It operates at ranges of up to 5000 metres. DAT-CON displayed its newly-enhanced Lynx integrated radar, long range observation system and high power radio frequency jammer, now capable of detecting small drones at 5km and larger drones at 20km ranges, according to company officials. Finally, AEI Systems displayed its Venom low recoil anti-drone gun, designed for remote weapon station integration – on light reconnaissance vehicles and fast patrol boats, available to customers without having to go through the ITAR process.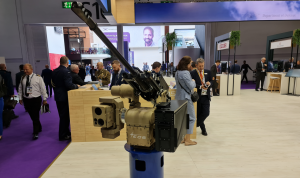 The Venom anti-drone gun