VAMPIRE Counter-Unmanned Aerial Systems (C-UAS) form part of USD3 billion additional security assistance for Ukraine announced by the Department of Defense (DoD) under the Ukraine Security Assistance Initiative (USAI) on 24 August 2022.
This USAI package announced on Ukraine Independence Day underscores the US commitment to supporting Ukraine over the long term – representing a multi-year investments to build the enduring strength of Ukraine's Armed Forces as it continues to defend its sovereignty in the face of Russian aggression. Unlike Presidential Drawdown (PDA), which DoD has continued to leverage to deliver equipment to Ukraine from DoD stocks at a historic pace says the government press release, USAI is an authority under which the United States procures capabilities from industry.
This announcement represents the beginning of a contracting process to provide additional priority capabilities to Ukraine in the mid- and long-term to ensure Ukraine can continue to defend itself as an independent, sovereign and prosperous state. It is the biggest tranche of security assistance for Ukraine to date. Capabilities include:
Six additional National Advanced Surface-to-Air Missile Systems (NASAMS) with additional munitions for NASAMS;
Up to 245,000 rounds of 155mm artillery ammunition;
Up to 65,000 rounds of 120mm mortar ammunition;
Up to 24 counter-artillery radars;
Puma Unmanned Aerial Systems (UAS) and support equipment for Scan Eagle UAS systems;
VAMPIRE Counter-Unmanned Aerial Systems;
Laser-guided rocket systems;
Funding for training, maintenance, and sustainment.
The US is sending Ukraine "Vampire" kits that transform pickup trucks and other non-tactical vehicles into highly portable missile launchers, according to a report by Defense News following a Department of Defense (DoD) press briefing. Colin Kahl, undersecretary of defense for policy, said the Vampire system is a kinetic counter-UAS system "that uses small missiles essentially to shoot UAVs out of the sky". The Vampire kit includes a four-pack APKWS mounted with an EOS Defense Systems R150 gimbal. The vehicle-agnostic modular palletized ISR rocket equipment system is a portable kit that can be installed on most vehicles with a cargo bed for launching the Advanced Precision Kill Weapons System (APKWS) or other laser-guided munitions.
The L3Harris-made weapon ― a small, four-barreled rocket launcher and sensor ball ― can be mounted in two hours and operated by a single person. It can be equipped with missiles to hit ground or air targets including unmanned aircraft systems. While the Vampire system isn't advertised as a counter-drone weapon on L3Harris' website, Ukraine has used similar munition-style weapons to take down drones throughout its conflict with Russia, says Defense News.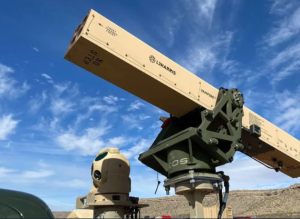 The United States has committed more than USD13.5 billion in security assistance to Ukraine since January 2021. In total, the United States has committed more than USD15.5 billion in security assistance to Ukraine since 2014.
Through both PDA and USAI, DoD continues to work with Ukraine to meet both its immediate and longer-term security assistance needs.
For more information visit: