VPorts, a Quebec-based Advanced Air Mobility (AAM) infrastructure provider, has announced two major UAM/AAM networks: the development of a Quebec-wide UAM network by 2030 and the extension of this network to the USA.
On September 6, VPorts launched its Quebec programme. ''We are excited to build the first vertiport network connecting all Quebec regions, including remote communities that are not adequately served by surface transportation or underserved by aviation," said Dr. Fethi Chebil, President and Founder of VPorts. "Similar to heliports, the vertiports will be designed for take-off and landing by eVTOLs. Our initial growth strategy is based on regional transportation of goods and efficient movement of patients, organs for transplants and medical equipment."
VPorts' Quebec network will focus on locations that optimize multimodal transportation connectivity, including Mirabel Helico, St-Hubert Airport and major agglomerations such as Quebec City, Ottawa-Gatineau, Sherbrooke, Drummondville, Mont-Tremblant, Trois-Rivières, Ste-Marie de Beauce and Rivière-du-Loup, as well as the network of airports in the north region of Québec operated by Transports Québec, said the company.
"Logically, the first places to set up vertiports are existing helipads and airports," noted Dr. Chebil. "Industrial and commercial areas are also excellent options to consider. We look forward to collaborating with Transport Canada, NAV CANADA, the Government of Quebec and municipal officials on defining safety and security regulations, flight corridors, urban integration and community engagement for this important undertaking that will benefit our communities.''
Each vertiport will be equipped with charging stations and hydrogen fuel stations for hybrid aircraft to ensure availability, said the company. "Technological advances in high-density, low-carbon energy sources for electric propulsion enable simpler, more reliable, more efficient and much quieter operation of aircraft, especially due to the increased range."
According to a press release, to create the first vertiport ecosystem in Quebec, VPorts has developed partnerships to implement the concept. Integration of air traffic management concepts are being developed by NUAIR, UAM Geomatics is in charge of cost and revenue forecasting, geospatial mapping and vertiport network location mapping in Quebec; Innovitech is supporting VPorts by developing a stakeholder management strategy focused on social acceptance; AEdifica is developing the architectural concept for the network.
According to a socio-economic impact study, VPorts' AAM infrastructure network will generate CAD6.5 billion in economic benefits for Quebec by 2045. "To support its national and international growth strategies, VPorts expects to create over 1,000 high-quality direct jobs in Québec. The VPorts team looks forward to working closely with Quebec universities and research centres to create the most advanced technology required for its Vertiport Operation Control Centre (VOCC) and prepare the next generation of decision-makers, who will help further develop AAM infrastructure in Québec and around the world," said the press release.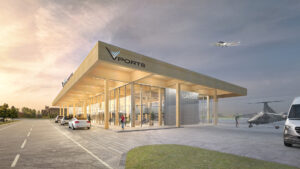 A day later the company announced the signing of a Memorandum of Understanding (MOU) with partner companies to establish the first-of-their-kind international electric AAM corridors between Quebec (Canada) and the United States, with eVTOL aircraft test flights planned for 2023.
"The aim of the corridors is to build an AAM ecosystem that will provide a platform for full commercial cargo transport operations using eVTOLs," said the release. "They will allow the consortium's members to explore all aspects of AAM, including goods transportation, charging readiness, stakeholder management, business cases, security and safety protocols, social acceptability and urban integration of infrastructure and operations. The initiative could also be replicated in other countries."
This initiative is in keeping with our ambition and vision to build and operate 1,500 vertiports around the world by 2045," said Dr. Fethi Chebil.
"This project is aligned with Aéro Montréal's mission of enhancing the Quebec aerospace cluster and positioning it as an international leader. We are delighted that VPorts is leading the way in establishing electric Advanced Air Mobility corridors between Quebec and the United States," said Suzanne M. Benoît, President of Aéro Montréal, Quebec's aerospace cluster.
(Image: Shutterstock)
For more information
https://vports.com/vports-creates-the-first-of-their-kind-international-electric-advanced-air-mobility-corridors-between-quebec-and-the-united-states/
VPorts to Create a Regional Electric Advanced Air Mobility Infrastructure Network in Quebec