Following the steps of the first short-range deliveries carried out by La Poste, Swiss drone manufacturer Rigitech reports one of the first long-range Beyond Visual Line of Sight (BVLOS) drone delivery routes in Switzerland, successfully flying over Lake Geneva to a laboratory in Coppet and back. Both RigiTech's proprietary software, RigiCloud, and Eiger drone hardware is compliant with BVLOS SORA regulations, says the Rigitech press release.
The flight involved coordination with Skyguide and Geneva Airport to establish an effective communications channel and to obtain clearance before flights. This milestone was several months in the making, as RigiTech gathered the approval and collaboration from Geneva Police, the Cologny Municipality, the Office conatolan de l'agriculture et de la nature (OCAN), and Swiss Federal Office of Civil Aviation (FOCA). "We are managing to surpass new obstacles and challenges from our sector. Every new successful authorisation and safe operation is a step forward for the whole industry, which is something we can be proud of," said Alejandro Del Estal, Head of Operations at RigiTech.
Avoiding high population density on the ground, this challenging route designed over the lake required consideration of necessary protections for local fauna, as well as vigilant attention to ongoing boat traffic on the water. RigiTech's team proved successful in coordinating the planned flights with information from the Compagnie General de Navigation (CGN), before executing this route to connect Geneva and Coppet.
"This flight represents a regulatory milestone and another step towards our expansion in the healthcare sector. Being able to fly in Switzerland, our home country, is especially significant. It marks our fifth European country with BVLOS authorisations, and fourth for the Eiger," said Adam Klaptocz, co-founder and CEO at RigiTech.
This first intercantonal route over the lake connected Cologny (Geneva) and the rooftop of the laboratory in Coppet (Vaud). Drone logistics between these two points allow for urgent transport of medical goods and supplies – as the Eiger drone can easily carry a payload of up to 3 kg (up to 300 pre-conditioned blood vials)– and saving up to 90 minutes in delivery time when compared to ground transportation during rush hour. Landing on the laboratory rooftop also allowed easy access to the delivered package for the medical staff, and allowed the drone to return to Geneva in less than 10 minutes.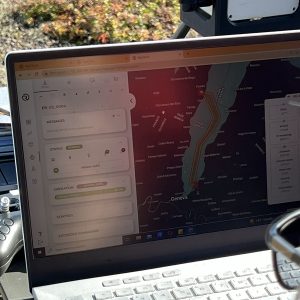 For more information:
www.rigi.tech