By Jenny Beechener
 "There are still many questions, but I am optimistic U-space services will be ready in Switzerland early in 2023," said Benoit Curdy, Swiss Federal Office of Civil Aviation (FOCA) Head of Section, Strategy and Innovation, speaking at the European Network of U-space Demonstrators webinar on 8 February 2022. Swiss U-Space Implementation (SUSI) partners have created a template to handle many legal aspects, starting with the Master Agreement for network remote identification finalised in December 2021. The agreement governs the rights and obligations of U-space parties and is due to be replicated for flight authorisations, geo-awareness, and traffic information. The Master Agreement is available to view on the SUSI website.
"We are looking for harmonisation," said Benoit Curdy. "EASA regulations relating to U-space service providers (USSPs) are valid throughout Europe, but you still need separate agreements to operate in each state." He said a universal legal template would help to harmonise the governance and oversight necessary in each state. "The solution is to automate the oversight process. We have done this manually and this has been hard. It needs to be done automatically with better systems." SUSI can generate flight paths, simulate flights, and compare flights to show if they meet expectations. This benefits USSPs, operators, and the authorities." SUSI has adopted open source technology hosted by The Linux Foundation to achieve high performance.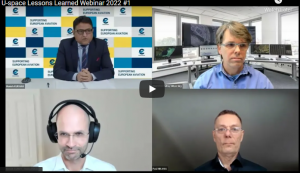 Meanwhile, Hamburg City associate partner Hamburger Hafen und Logistik (HHLA) is establishing an end-to-end solution to support U-space services and drone operations in Hamburg port area. The company is applying its automation experience working with critical infrastructure. "We are not an USSP," said Thorsten Indra, HHLA Project Developer. "We need to automate the process using an Internet of Things (IoT) scalable platform. One pilot for every drone is too limited." The programme has started in a soft launch with customers operating in the Port of Hamburg, for example carrying out inspection activity and incident response. HHLA is working with Airial Robotics to add gyrotrack capability to the platform and Iris Automation to include Detect And Avoid (DAA) functionality.
HHLA has developed a prototype control centre that can authorise, manage and track beyond visual line of sight (BVLOS) flights, working initially with German Rail. "We take a risk balanced approach to automation," said Thorsten Indra. "The control centre is monitored the whole time and we are exploring U-space from all angles." Among challenges, he identified strategic deconfliction along with flight intent and interacting with manned aviation. He sees early implementation in protected areas such as low-level airspace and helicopter medical services among first steps. HHLA is also marketing the solution overseas to other users.
A separate demonstration project by Finish air navigation service provider Fintraffic ANS also aims "to digitalise information to provide one source with easy access for all manned and unmanned traffic," explained Pasi Nikama Fintraffic ANS, Senior VP Marketing and Customer Relations. Finland's Drolo innovation and business ecosystem offers a 'Living Lab' test environment to accelerate this development.
Three dedicated drone corridors in the Oulo regional in northern Finland are testing a digital infrastructure with the aim of "enabling automated, secure, secure drone systems, products and services to support future applications."
The first corridor supports daily drone delivery of medical products between Hailuoto Island Health Centre and Oulo University Hospital in partly controlled & uncontrolled airspace, offering an alternative to the longer, weather-susceptible ferry connection.
A second demonstration delivers goods and mail between Oulo city centre and Oulu Airport in controlled airspace; while a third demonstration conducts drone deliveries over short distances in uncontrolled airspace within Ideapark retail park.
Fintraffic intends to introduce more applications from January 2023, gradually expanding the corridors and available functionality as the programme matures. "We are learning from these exercises before we roll out to other parts of the country," said Pasi Nikama. "We need to be aware of many issues including noise, privacy and safety."
Meanwhile, the Network of U-space Demonstrators is due to complete a Europe-wide survey in April to identify all the U-space services currently under development, whether state-funded, private or SESAR research. The results will be published in 3Q22 to provide a country-by-country overview of U-space activity.
Eurocontrol ATM/UTM Business Development Senior Manager Munish Khurana said the European Network of U-space Demonstrators shows many projects on fast track to implementation. Sharing experiences between these projects is important to support this transition, especially where members are at different levels of maturity. The next meeting of U-space Demonstrators takes place partnership with Amsterdam Drone Week on Monday 28 March at the RAI, Amsterdam.
For more information
https://www.eurocontrol.int/event/u-space-lessons-learned-webinar-2022-1
(Image: Shutterstock)