By Philip Butterworth-Hayes
We are now in the fourth stage of the drone war in Ukraine.  Stage one was characterised by Ukraine's successful use of drones – symbolised by the Bayraktar TB2 and innovative use of small, commercially available drones armed with mortar bombs for precision attacks – in repelling the initial Russian invasion. Stage Two was Russia's reply: extensive use of Shahed 136/Geran-2 drones in swarming attacks on Ukrainian towns and cities. Stage Three saw a massive escalation in commercial drones by both sides for a wide number of roles, and Stage Four has the seen the widespread deployment of first-person-view (FPV) drones, loitering munitions and "kamikaze" drones in increasingly effective precision attacks.
Each stage has resulted in a change in counter-UAS tactics and equipment deployment. Traditional air defence units have proved ineffective against swarms of small drones, which have presented C-UAS tacticians with an escalating range of problems.  As we reported earlier this year, the Mavic 3 Enterprise E/T is probably now the most ubiquitous drone flying in Ukraine. After the first Shahed attacks, Ukraine focused on swiftly acquiring large scale air defence systems and equipping individual soldiers with more handheld systems to detect incoming targets and shoot them down with conventional weapons.
On both sides, each successful C-UAS response had been met with a change in tactics, creating a new set of challenges for defenders. The skies above Ukraine's battlefields are now full of small, cheap, expendable commercial drones helping direct artillery fire or drop munitions with precision.
But these have very different capabilities from the small drones used at the start of the war. They are far less resistant to jamming, they can operate without GPS guidance and hit highly mobile targets. Their operators have become more adept at avoiding detection through more agile frequency hopping or passing around the handheld control units. Drone operational tactics, at least on the Ukrainian side, have been devolved down to small units, who have developed their own programming and control capabilities.
But the arrival of a new generation of low-cost FPV drones has added a new dimension to the battle. As Eric Schmidt, writing recently in the Wall Street Journal, reports "Deployed in volume, this first-person-view drone—invented for the sport of drone racing—is cheaper than a mortar round and more accurate than artillery fire. Kamikaze drones cost around USD400 and can carry up to three pounds of explosives. In the hands of a skilled operator with several months of training, these drones fly so fast they are nearly impossible to shoot down."
The next stage will be to see who will win the race to deploy artificial intelligence (AI) more adroitly on the battlefield – coordinating swarm attacks with more precision, at great range and with more deadly payloads.
As Mykhailo Fedorov, Minister of Digital Transformation of Ukraine, wrote recently on Telegram of the 600-plus drones from the "Drone Army" recently sent to the front for a counteroffensive…. "423 Matrice copters will make it possible to find the most camouflaged positions of the Russians and quickly transmit information to the artillery. 150 Mavic copters will help the military detect equipment, the movement of Russians and adjust strikes on their positions. 18 "Bat" attack drones will allow the Defense Forces to work effectively at night. Drones have a camera with a thermal imager and accelerate up to 120 km per hour, so it is practically impossible for the Russians to shoot them down. Five "Stork" reconnaissance complexes (three UAVs in one complex) will help to fly inconspicuously into the deep rear of the enemy in order to learn information about every step."
For civil security agencies watching the drone war in Ukraine moving through several generations in a matter of months, these are worrying times.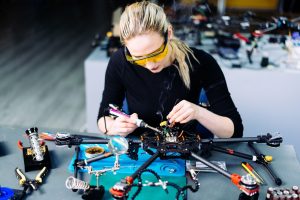 Engineer working on racing FPV kamikaze drone in workshop (Shutterstock)
Eventually some of the technologies which have been developed to avoid detection in Ukraine will, one way or the other, find their way into the hands of criminal or clueless drone operators. In particular, the delivery by drone of drugs into prison is big business and likely to become more sophisticated once the criminals adopt some systems and tactics for the identity and location of small drone operators which have been perfected over the battlefields of Ukraine. Given the hundreds of thousands of commercial drones currently flying, or waiting to fly over the battlefields of Ukraine, the market will also be flooded with untraceable DJI models once the conflict ends.
There will also be thousands of more military-grade drones available for sale. These are likely to find their way into the hands of more organised militant groups and drug cartels, who have already become proficient at the early stages of commercial drone warfare.  Drug cartels operating in western Mexico have already perfected the capability of dropping bombs from drones on army vehicles.
They will give many of these groups new capabilities, allowing them to be more proactive and take their drone offensive capabilities further and father than ever before.
"Militant use of drones can be divided into two types: active-offensive and passive-defensive," according to the UK's Royal United Services Institute military think-tank. "Active-offensive use includes the use of drones in carrying out attacks. The Houthis, for example, have used drones offensively to strike strategic targets in Saudi Arabia and its allied countries, the most recent example being an attack on an oil facility in Abu Dhabi in January 2022. Between 2015–2017, IS modified quadcopter drones to drop munitions onto coalition forces on the ground, carrying out between 60–100 attacks per month."
Security agencies planning to counter these measures can do little at the moment except watch events in Ukraine and monitor how each new threat is countered – but with the uneasy knowledge that they will not have the resources at their disposal available to front line troops on both sides to meet each new threat.
(Image: A damaged building exterior in Kyiv as result of drone attack. Shutterstock)