By Philip Butterworth-Hayes
Ukraine is ramping up its industrial capabilities to deal with the increasing threat of Russian loitering munitions and first-person view (FPV) kamikaze drone attacks. Ukraine has signed multiple deals with other nations to supply jamming and counter-UAS equipment but the recent increase in volume and ferocity of Russian FPV and loitering munition attacks has meant that the number of systems required deal with the threat can no longer be accommodated by large number of systems supplied from abroad.
Recent additions to Russian FPV capabilities have meant that many of these imported systems may not provide the level of effectiveness needed to cope with latest threats. Many rely on bringing down USD400 Russian FPVs with missiles that cost USD10,000 or more – which is not a sustainable way to fight a war.
The first challenge is sheer numbers. According to Samuel Bendett, Researcher at the Center for Naval Analyses in the USA, in a LinkedIn post.
"If we count the most optimistic estimates of total Russian FPV/combat quadcopter production, assuming all numbers are true and verified, we get the following: military companies like Almaz-Antey and Kalashnikov at 3000 each, "Hydrangea" at 3000 per month, plus numerous volunteer efforts like Sudoplatov, KatyaValya, Project Archangel, DroneZ, multiple other smaller efforts across Russia that also assemble FPV drones, plus a few smaller defense companies, we can get an additional maximum of 5000-6000 drones per month so far. Therefore, the total number of such drones supplied to the Russian forces "can" be around 15K – assuming all numbers are indeed verified, which we cannot do so far for large Russian defense companies' claims – no videos yet of their use. In reality, the actual numbers are so far probably smaller, given the uncoordinated volunteer efforts and Russia's defense-industrial enterprises preferring to manufacture their own small drones instead."
However, even 10,000 FPV drones a month rolling off the production lines produces a considerable battlefield threat.
And the most recent Russian FPVs have been adapted to avoid many first-generation C-UAS systems. According to Russia's TASS news agency: "Developers have designed a flying relay station that boosts the flight range by a factor of two for the Upyr FPV drone produced in Russia's Ural region." Other reports (see sources at the end of the article) say Russian Joker FPV drones now can be programmed to go into a kind of 'sleep mode' before being reactivated for an attack, while Merlin and Poseidon kamikaze drones are equipped with high-capacity batteries to provide a long flight time and use military-grade encrypted Crossfire or Express LRS radio control links.
In response, the Ukrainian government has incentivised the Ukrainian defence industry and civil software engineers to develop increasingly agile solutions to the threat. According to a recent Reuters report, the government is distributing USD3 million in prize money to teams of electronic warfare technology experts who have developed the most effective and affordable C-UAS defences again Shahed drones and other related threats.
This is the latest government initiative in a programme of developing indigenous capabilities which has seen a wide range of new, more affordable Ukrainian-developed C-UAS systems with niche counter-FPV and loitering munitions capabilities now entering the battlefield.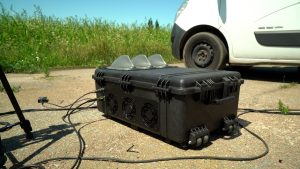 Piranha – Armored Vehicles Dome 360 – Defence Express
According to Ukraine's Defence Express news site: "Ukrainian Piranha-Tech company specializing in anti-drone solutions has developed a portable EW system they called Piranha – Armored Vehicles Dome 360 designed specially for armoured vehicles. When installed on a vehicle, the equipment goes into the armoured hull with only minimalistic antennas emerging to the outside. The device is declared to be capable of suppressing both radio communication and satellite navigation of UAVs.
"Importantly, the Piranha – Armored Vehicles Dome 360 not only jams the standard channels used for controlling commercial quadcopters and FPV drones but also covers the frequencies at which Lancet loitering munitions operate. Furthermore, it shuts down GPS, GLONASS, BeiDou, and Galileo satellite navigation systems. The power output of the EW kit is 150 to 250 W; it creates a protective field with a radius of 700 meters (~2,300 feet) for all 360°."
Belgian defence analyst Tim de Zitter (https://www.linkedin.com/in/tim-de-zitter/) in a Linkedin post has reported on the first deployments of a new portable C-UAS electronic warfare backpack, equipped with four antennas, one each working in the 2.4 and 5.8 GHz range, and two in the 900 MHz range, from an unknown Ukrainian source.
"The device was placed in a protected backpack. The backpack is waterproof and can withstand temperatures in the range from -40 to +65°C. The degree of protection of such a backpack is IP67. This means that the portable electronic device inside it will not be affected by dust. Moreover, the case with its load can be immersed in water to a depth of 1 meter."
And Ukrainian defence news source MILITARNY reported in July 2023 the first C-UAS tank protection modules, configured to operate at a frequency of 900 MHz with an operating power of 50 watts, had been fitted to the first set of combat vehicles.
"Within three weeks on combat missions, this little box performed all the tasks perfectly without a single even tangent hit from FPV, though the neighbouring crews caught two cumulative each on one of the numerous missions," said the developers.
These are just a handful of home-grown C-UAS defence systems which are reaching the battlefield and will, after the conflict, provide a potentially important export opportunity for Ukraine's defence industry. The key area of expertise where Ukrainian industry will need to develop further capabilities is in tactical radar and passive detection systems, which need to be integrated into the mitigation capabilities now being developed in the country.
For more information
https://en.defence-ua.com/weapon_and_tech/ukrainians_create_a_portable_ew_jammer_to_take_down_russian_drones_and_lancet_loitering_munitions-7517.html
https://tass.com/defense/1648875
https://www.eurasiantimes.com/sleeping-death-russia-claims-developing-drones-that-can/
https://sundries.com.ua/en/the-russians-began-to-use-home-made-kamikaze-drones-against-the-armed-forces/
https://www.reuters.com/world/europe/inside-ukraines-tech-push-counter-russian-suicide-drone-threat-2023-07-05/
(Image: Drone hunters the war in Ukraine. Machine gun for shooting down kamikaze drones. Mobile group against air defense. Shutterstock)