By Philip Butterworth-Hayes
The move from 5G to 6G mobile network communications will be more than a technical leap – it will require a fundamental shift in political thinking, according to a new white paper European Vision for the 6G Network Ecosystem, published by Europe's 5G Infrastructure Association, incorporating key inputs from 5G!Drones European research programme (see box) partners.
According to one of the key passages in the white paper:
"We have to move towards sobriety and eco-conception. Sobriety means moderation when producing and consuming services, materials, or energy. Eco-conception means integrating environmental stakes, from conception, production and deployment to termination and recycling. To this end, we need to define new societal and environmental Key Performance Indicators and adopt a global end-to-end strategy with the various players, directly or indirectly related to the telecom activity (device manufacturers, network operators, application providers, digital services users…). This also means questioning needs and usages, including the net neutrality."
One of the key differences between 5G and 6G is that 6G will need to be inclusive for all people across the world, affordable and scalable with a great coverage everywhere – one single, global system supported by common standards. As the paper makes clear, the infrastructure to support this will be immense, with the use of higher frequencies, multiple low-cost base stations to provide coverage everywhere and the introduction of a new generation of low-cost mobile devices.
The infrastructure challenge suggests these 6G goals look more aspirational than realistic, especially considering the targets for reliability and technology development outlined in the white paper.
New 6G networks will have to deal with more challenging applications (such as holographic telepresence), and meet far more stringent requirements, such as Tbps data throughput, sub-ms latency to the networking layer, extremely high reliability with packet error rate as low as 10-8 , increased device density, extreme energy efficiency/ultra-low energy consumption, very high security, cm-level accuracy localization, etc.

Despite the obstacles, the first 6G products could be developed as early as 2030 – and they could have a significant impact on the drone/urban air mobility (UAM) industries and especially future concepts of UAS traffic management (UTM). Some of the key potential benefits are:
In 6G simultaneous localization and mapping (SLAM) methods will enable the implementation of advanced cross reality (XR) applications and navigation of autonomous vehicles and drones. In 6G sensing as geolocation, radar, and spectroscopy will ensure a precise image of the setting, passive and active sensing will continuously convey to each other and process the information
6G waveform design can extend to the radar domain to offer the potential for combined radar and communications capabilities.
Smart optical transport connectivity will be the foundation of this new era: always available, intrinsically secure, green, and with flexible scaling – including to remote communities.
The trend towards vertical industries for industrial automation will likely further expand resulting in increasing demand for 6G for verticals with application to special purpose networks or to even smaller range 'sub-networks' that can generally operate in a stand-alone fashion but may benefit from connectivity to the wide area network. Examples of sub-networks that will benefit from 6G performance enhancement will range from in-body sub-network, in-robot to in-car and sub-network of swarm of drones.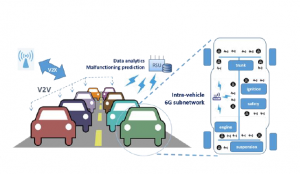 Energy optimized short-range sub-networks with wireless zero-energy devices (such as passive radio frequency identification tags) will allow for a battery life of up to ten years; at the same time, also specialized wide area use cases such as for environmental monitoring may require sensor devices with very long battery lifetime.
As there are considerable technical and regulatory hurdles to be overcome before 6G products make it into the market (see box below) these benefits will need to be confirmed and quantified. This done, the challenge facing the drone/UAM sector will be to, collectively, agree on how these new technologies should be implemented along regulatory and commercial lines. If the technology meets the promise it will be important to agree how a dedicated drone/UAM special purpose network – incorporating safety and performance data from individual drones and eVTOLs within a sub network – might work.
In theory, 6G should be able to offer:
Optical sensor downloads/data distribution within a network integrated with AI to develop a dynamic detect and avoid service for all flying vehicles;
Drone/UAM platform operational communications networks, including vehicle-to-everything [V2-X] and company communications;
UTM – integrating weather sensors, predicted flight trajectories and flow control management solutions;
Integration with municipal transport networks.
One key deliverable will be reliability. According to the white paper:
Capabilities that were previously only possible outside the network through cloud solutions will now be integrated into the 6G system, such as the ability to process and store data….as well as allow the use of AI everywhere in the network where it can be beneficial….Another important principle is the reliability. Since MBB is becoming more and more critical to the society and to be able to support new verticals, the architecture of 6G must support reliability, availability, and resilience beyond 5G, both in terms of service and infrastructure provisioning.
At first sight, 6G seems to tick all the boxes for being the future universal communications network on which future drone and UAM operations can depend, including aviation-grade reliability and robustness. Europe's 5G Infrastructure Association has done an important job in integrating the technical challenges and potential of 6G within a societal context – but in doing so it elevates 6G technology into an almost a moral imperative, which in one sense is admirable but is also dangerous.
The technical challenges of – and some solutions to – the 6G air interface design
To satisfy the high bandwidth demands of upcoming 6G systems, it is crucial to efficiently reutilize the existing low-, mid- and high-band spectrum resources (e.g., jointly utilizing licensed and unlicensed spectrum, using e.g. cognitive radio-based solutions).
Millimeter-wave (mmWave) communication: compared with low- and mid-bands, mmWave has a much bigger available bandwidth which is a very valuable asset for 6G.
Optical Wireless Communication (OWC): Despite the small cell concept and new radio frequency spectrum allocation, the exponential growth in mobile traffic may lead to congestion in the radio frequency part of the electromagnetic spectrum. Using OWC in the infrared and visible light spectrum (which is about 2600 times the size of the entire RF spectrum of 300 GHz), can alleviate that and complement traditional RF communications especially in dense indoor deployments.
Terahertz (THz) communication including semiconductor technologies and new materials: technology to enable communications in the THz bands (0.1–10 THz, where 100–300 GHz are also considered as upper mmWave band) is also envisioned as a key to satisfy the need for much higher data rate requirements, e.g., Tbps.
Massive and ultra-massive Multiple-Input Multiple-Output (MIMO). In this concept, all APs are able to serve UEs cooperatively without any cell restrictions, with the possibility of coherent transmission and reception, and almost uniform services across the network can be offered.
Waveform, multiple access and full-duplex designs: waveform design can extend to the radar domain to offer the potential for combined radar and communications capabilities.
Enhanced coding and modulation: Channel coding aims to correct transmission errors and thus is key to ensure "reliability".
Europe's 5G!Drones research programme
5G!Drones partners aim is to trial several UAV use-cases covering eMBB, URLLC, and mMTC 5G services, and to validate 5G KPIs for supporting such challenging use-cases. The project aims to show that 5G is able to guarantee UAV vertical KPIs and support challenging use-cases that put pressure on network resources, such as low-latency and reliable communication, massive number of connections and high bandwidth requirements, simultaneously.
https://5gdrones.eu/
For more information
https://5g-ppp.eu/wp-content/uploads/2021/06/WhitePaper-6G-Europe.pdf
(Image: Shutterstock/metamorworks)