By Philip Butterworth-Hayes
The formation of a new U-space implementation organisation – the U-space Coordinator – was one of the key outcomes of the European Union Aviation Safety Agency (EASA) workshop "Development of acceptable means of compliance and guidance material to support the U-space regulation", held on February 15, with over 500 attendees.
Unmanned Airspace will provide full coverage of the conclusions of the event over the next few days, as EASA and partners have laid out more detailed plans for U-space implementation – including proposals for institutional arrangements and appropriate technology, such as the use of mobile telephone networks for communications.
Under the new EASA policy Member States will have to designate a new mechanism for coordinating the implementation of U-space management to take account of European, national and local – including local authority and first responder – stakeholders.
The new U-space Coordinator will be responsible for managing the hearing process that informs the U-space risk assessment and submitting initial U-space deployment proposals to the competent authority.
"The role of the U-space Coordinator relies on ensuring the incident data gathering to inform the regular tasks of the U-space deployment Review phase," said Vassilis Agouridas, Head of EU Public Co-Creation & Ecosystem Outreach, Airbus Urban Mobility. "Established accident reporting mechanisms of cities or regions, or purposefully developed tools for the monitoring of the U-space deployment, may link to this task."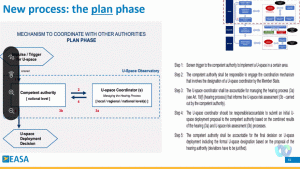 This is the first time that local authorities have been formally recognised as partners in the U-space planning and deployment role. The proposals will also envisage the U-space Coordinator receiving inputs from local communities in the planning process within a network of stakeholders, including first responders, called the "U-space Observatory."
More on this story will be published in the next few days.
On 23rd February 2022 EASA will organise an online workshop for general aviation and rotorcraft communitiesbto present the EASA iConspicuity Roadmap and to discuss the recent proposal for AMC/GM to SERA.6005(c). The latter will as of January 2023 require all manned aircraft operating in U-space airspace as uncontrolled traffic to be electronically conspicuous to U-space Service Providers (USSPs). https://www.easa.europa.eu/newsroom-and-events/events/iconspicuity-ga-rotorcraft-u-space-and-beyond