The UK's Air Accident Investigation Branch (AAIB) has published its review of 2021 aviation accidents and reports that unmanned aircraft systems (UAS) occurrences accounted for a quarter of the notifications received by the AAIB in 2021. The predominant cause of UAS accidents, was loss of control in-flight, usually resulting from the UAS becoming unresponsive to control inputs or displaying an erratic uncommanded response in flight.
The AAIB investigated 191 UAS related incidents in 2021 and UAS accounted for almost half the safety recommendtions and actions taken by the department.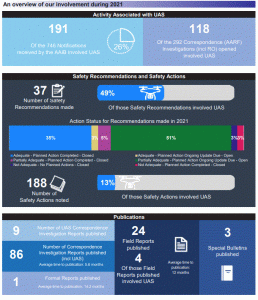 According to Crispin Orr, Chief Inspector of Air Accidents: "Unfortunately, some of the hard lessons learnt in the development of manned aviation in the 20th century (such as the need to expect and train for failures) are having to be relearnt by the UAS sector in the 21st century. Our investigation of selected occurrences is helping to accelerate this process."
The AAIB received 746 occurrence notifications (compared to 826 in 2019 and 553 in 2020) and opened 28 field investigations, five of which were into fatal accidents in the UK resulting in seven deaths. A further 96 investigations were opened by correspondence. In 2021 the AAIB published 24 field investigation reports. These comprised five investigations into fatal General Aviation accidents, 17 field investigations into non-fatal accidents or serious incidents to both General Aviation and Commercial Air Transport aircraft. Two Unmanned Aircraft System field investigations were also published.
For more information
https://dft-newsroom.prgloo.com/news/aaib-publishes-annual-safety-review