The implementation of U-space in Europe is being hampered by a lack of standards and clarity around appropriate means of compliance of the U-space regulation, according to speakers at Amsterdam Drone Week. We are only going to know the details of what is missing when we actually start implementation, was one expressed sentiment.
There will need to have new acceptable means of compliance (AMC) and Guidance Material (GM) over the next months and years to come to close the gap or even an update of the regulation itself to solve some fundamental issues, according to Koen Meuleman, Co-Founder, Unifly.
One of the key issues is that we are implementing U-space based on existing standards but these are not really suited for the goal, he said.
"We have to agree on standards on how we are going to exchange data," he said. "We make reference to ED-269, a standard which exists but is not meant for U-space but rather geo-casing for drones. One of the issues we are facing is we have to exchange with operators in a U-space area but ED-269 does not allow me to define this…."
The ASTM standard has been specified for remote ID but operator ID as a mandatory field is not yet part of this specification. "We are reaching out to EASA for solutions in the update to the AMCs to make this clear."
Another issue is a lack of clarity around the ending of a flight; flight activation and authorisation is clear but the ending is not yet clearly defined in a harmonised way. And exchange of 4D flight volumes for de-confliction is also not clear – in this context aviation thresholds (or protection buffers) are mentioned but what does this mean? "If we exchange data with another USSP what do we have to exchange: what the pilot has planned? Is it volume with aviation thresholds or not? Another issue is e-conspicuity. USSPs are responsible for capturing this data but how many antennas will be needed to ensure ADS-B and FLARM signals, for example, are deployed to ensure all the required data is captured?
ASTM F354-21 was identified in the AMC as a suitable standard through which USSPs providers can connect to each other and should discover between themselves where there is a potential conflict. But leading up to implementation there has been a problem with this standard in that it has not been available on the website, even though the standard was approved in December, according to Andrew Hately, U-space ConOps Development at Eurocontrol. It has appeared finally this week. "In the meantime," he said, "we had many questions about how USSPs connect to each other and some suggested this should involve the common information service provider (CISP). My fear is that this something people will want do but this is not what was written in the regulation and not the intention of the AMC."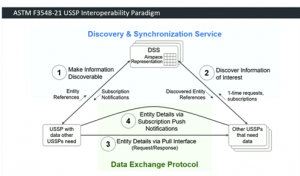 Image source: Benjamin Pelletier, UTM Standards Manager at Wing Aviation
There are other concerns about the certification of USSPs, who should do it and how it should be done.
"We need an adequate certification process which doesn't hinder the market to go forward or cost too much," said Ralph Schepp MD & COO at Droniq. "We need a single source of truth based on CIS or standards, however this must be extremely cost effective; we cannot pay for a certain amount of data upfront which will overburden the market with too many high costs."
These are issues which the European Union Aviation Safety Agency (EASA) is well aware of, said Agency representatives. "We will try as much as possible to fix these issues through the review of the NPA, but we are bound by what industry standards we can rely on," said Ken Engelstad, Drones Project Manager. EASA.
"We are really maturing," according to Maria Algar Ruiz, Drone Programme Manager at the Agency. "But we had to start with something and to begin with we did not have a mature concept, mature definition of services and even fewer standards.  We need to start testing the services… with all the feedback from SESAR, FOCA and elsewhere we will need to modify and improve the regulation and guidance material.
"I don't believe by January 26 2023 we will have U-space up and running everywhere where it is needed," she said, "so that all USSPs can plug and play. But I think it is important to keep that date because it's only when start implementing things that we can assess and monitor things together."`
EASA is now working on supporting an implementation action plan and creating a task force to develop a harmonised certification approach to USSPs.
(Main image: Shutterstock)