In our first commentary article by industry experts on the significance of the new EU U-Space Regulation, Droniq's Chief Executive Officer Jan-Eric Putze highlights some of the questions that still need to be answered before U-Space can become widespread
The European U-Space Regulation came into force on 26 January 2023. This was certainly welcomed by many, as it marks the next step in establishing U-Spaces. The concept developed by the European Aviation Safety Agency (EASA) has huge potential, not least since drones are already being used as tools in many sectors of the economy, as well as society at large. The approach of promoting their use in urban areas with U-Spaces is clearly the right one, as was quickly recognised in the German political arena.
The U-Space sandbox in Hamburg, a testing area sponsored by the German Federal Ministry for Digital and Transport (BMDV) and established by Droniq and DFS, already demonstrated in 2021 how a U-Space can be safely implemented in practice. Further projects and initiatives, such as the Air Mobility Initiative of Airbus in Bavaria or the U-SpaceR3 project in Aachen, are continuously expediting the implementation of U-Spaces.
At Droniq, we are delighted to be taking a leading role in these projects. As a subsidiary of DFS, safety is our DNA. We are therefore keen to make our own contribution and help ensure safe drone operations in U-Spaces – ideally as one of the first U-Space service providers (USSP) in Germany.
But is the U-Space really the 'big solution' that will help the drone market move forward in all respects? And should market players really be focusing all of their energy exclusively on this topic?
In my opinion, simply responding with 'yes' to both of these questions is not enough. After all, although the U-Space approach is clearly important, it will still be some time before we have the first actual U-Space established here in Germany. The German Federal Ministry for Digital and Transport (BMDV) must first transpose the U-Space concept it presented in December into national legislation. This will require answers to several questions that currently remain open, such as: what kind of costs are likely to be incurred for flights using the U-Space and who will ultimately be responsible for developing the technical infrastructure that U-Spaces of this kind require? Another key issue is ensuring that the topic of U-Space is not overregulated. Indeed, what is actually a great opportunity could ultimately be perceived more as a burden by market players if establishing U-Spaces means having to satisfy too many rules and requirements.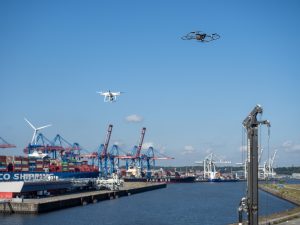 This is also true of drone use in general, so prudent judgement is also required here when it comes to regulation. Yet even if all of these issues are resolved satisfactorily, it would be negligent to base development of the drone market solely on U-Spaces. In fact, it is important to remember that drones operate outside of U-Spaces as well. This air traffic is clearly also relevant and must obviously be kept safe at all times, while being promoted as effectively as possible.
In the political arena, for example, attention must be given to the aspects of feasibility and visibility.
Industry, on the other hand, must provide new and intelligent approaches that deliver social and/or economic added value. Alongside drone operations in U-Spaces, it is therefore also important for us at Droniq to promote drone use outside U-Spaces with our expertise and our services. Both approaches are ultimately required to get the whole drone market moving forward. This is precisely our objective.