AirHub is the key which will unlock the urban drone and air mobility industries: a new, single system which connects cities and states, drone operators and the Federal Aviation Administration (FAA) into a common digital mapping system which determines the safest, most efficient route for a drone to take across the urban sky.
While UAS traffic management (UTM) systems have been available for some time, AirHub, a cloud-based digital infrastructure from Airspace Link, is different in that it allows local authorities, cities and states to input static and dynamic risk and advisory data in a quick and easy format. "We have a strategic partnership with geo-spatial mapping company Esri," says Michael Healander, President & CEO of Airspace Link, "which embeds our technology into theirs, and theirs in ours."
Around 90% of all US states and local authorities with Geographic Information Systems use Esri technology to design and map their neighbourhoods and cities. "When we start the conversation about our respective roles and data requirements we can quickly put our city colleagues at ease as we are both using the same technology and we are very familiar with the GIS data standards and models they use" says Colby Free, Vice President of Operations at Airspace Link. "We just ask them to verify if the data they hold is correct for our use in AirHub and whether it is publicly available. If it is, we ingest it and run it through our model, at the same time making sure, of course, they're part of the process; Esri has been doing a really good job in guiding these communities and making their authoritative data publicly available."
The company is also an FAA approved Low Altitude Authorization and Notification Capability (LAANC) supplier. Providing real-time and further coordination authorization for recreational and commercial drone pilots at 726 airports.
Over the last few months Airspace Link has been proving itself in several locations throughout the USA. "We launched in April last year and we are now in 18 states from North Dakota – where we are deploying a USD28 million beyond visual line of sight (BVLOS) system with our partners Thales – to Ontario, California, where the system will start supporting drone operations such as package delivery and emergency first responder operations from mid-2021," says Michael Healander.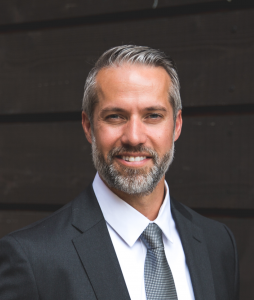 Michael Healander
"We are working with two drone companies in Ontario to introduce various UAS use cases to their community such as medical, food, and industrial parts deliveries," says Colby Free. "It started by reviewing the data in AirHub to identify areas of the City that are well suited for various UAS operations. Specific areas of new development quickly became evident based on qualifiers such as FAA regulatory constraints, ground-based hazards and local community interests. It wasn't long before all the stakeholders, the city, developers, UAS operators and Airspace Link started collaborating on a plan to bring UAS capabilities to the city.
It is also different in other ways – it acts as a powerful catalyst to bring all stakeholders around the table.
"The first reaction we often get when we meet with a city council or county mayor is: 'we don't want drones' or 'how do you even know where you can and can't fly' and 'how do you fly safely?'" says Lisa Peterson, VP of Business Affairs & Marketing at Airspace Link. "Then when we show how our solution helps them participate in managing the safe, growth of drone usage, they start to get involved. We produce benefit analyses and impact assessments, and we can look at the impact of ordinances on drone operations. We can show them the benefits of opening up, rather than shutting airspace and we are now starting to see, here in Michigan for example, some authorities offering incentives for drone operators to set up services. We're bringing the two sides together, the private and the public sectors, to create a winning model for both. Now if UPS or Amazon want to drop off parcels by drones, local agencies have a planning tool that allows them to jointly sit across the table with drone operators and let them plan out the flight areas so that everyone's safe and accepting of these operations."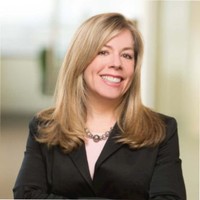 Lisa Peterson
In September 2020 Airspace Link set up a low altitude drone infrastructure management system in Detroit's Aerotropolis economic development area to provide local communities and airports a system to ensure safe use of recreational and commercial drone use in the region. In January this year the company set up its system in Syracuse, New York, to support Covid test kit deliveries between hospitals, over people, over cars and in a downtown setting.
Another difference is in the potential to speed up approvals for more complex operations.
Behind the simple concept is a complex network of authoritative data from Federal, State and Local sources, algorithms and processes all designed to enable drone operators with the insights they need to build robust safety plans informed by quantifiable risk assessments. The goal is to streamline beyond visual line of sight (BVLOS) and other advanced operational approvals from the FAA. Applied risk models draw from organizations like Joint Authorities for Rulemaking on Unmanned Systems (JARUS), Specific Operations Risk Assessment (SORA) process and research conducted by NASA, MITRE, Embry Riddle and beyond which informs the safety case and subsequent approvals, which will need to be maintained by the operators.
"We evaluate what's required to support hazard identification and risk modelling based on known rules and regulations in addition to standards, guidelines and research. We then use authoritative data from federal, state and local sources to model categorical risks associated with an operation profile which supports how to best mitigate specific risks," says Colby Free. "The first iteration of our work was to identify those hazards that are relevant to the SORA process, apply general risk categories, and display them spatially in the context of the operation. These results are available in a nationwide ground risk profile within our LAANC application. We're currently focusing on how to calculate risk dynamically as data are updated or using continuous data such as weather, mobility, traffic, telemetry, etc. in order to provide insights for operations with a specific profile – UAS type, weight, speed, payload, line of site, altitude and so on in order to support routing around or mitigating risks at every step of the operation lifecycle."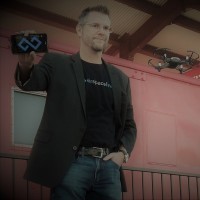 Colby Free
"Applying the SORA or similar models for a BVLOS operation requires the integration of many disparate datasets that are used in the risk assessment process," says Lisa Peterson. "We work with partners that provide this data; our part is to apply quantifiable risk models that then return the needed results to inform the safety case. Ultimately the operator has to provide its own safety case, but we can make it easier for them and we are currently striving to achieve a full approval for the back-end infrastructure and traffic management systems that will support their operations."
The ultimate goal that all participants in the industry are striving for is a streamlined approach that meets the safety standards of the authorities. Airspace Link is collaborating with other industry partners to become that trusted infrastructure and data services provider to help support the UAS industry's needs for safe and scalable drone operations. The Airspace Link AirHubTM system is integrated into North Dakota's VantisTM system, which will support BVLOS drone missions. The operators should get faster approvals to perform advanced missions as long as their drones are connected to the main system. North Dakota was part of the UAS Integration Pilot Program (IPP) and one of eight participants of the UAS BEYOND Program – in which Airspace Link is a partner – where the technology and regulatory concepts are being trialed.
"Ultimately the FAA wants to see the operator build their safety case, but we can help deliver some of the key components," says Lisa Peterson. "They will need an aircraft that's certified, trusted infrastructure, a mapping system – provided by Airspace Link – the intelligence to ensure routes will be safe and a of course a safety management system and verified operations that meet the regulatory requirements."
"We are making this happen now in the BEYOND program," says Michael Healander. "Once we have this in place it will become a template that we can then use for advanced operations for the next three years, looking at where the best landing and take-off locations are and how we deconflict flights."
One of the objectives of the BEYOND program is to enable BVLOS operations and implement a trusted and operational UTM system based on an agreed framework, to support many different drone operators and UAS service suppliers (USSs). Airspace Link is therefore working with USSs to ensure safety data can be seamlessly transferred.
"In the UTM architecture, we are a supplemental data services provider," says Lisa Peterson, "providing ground risk data and safe route information, but also a USS, in that we provide LAANC and other flight planning and operational services to pilots."
The next few years will see rapid acceleration in growth for the company as customer sites grow and operations become more advanced.
"The nice thing about cities is that they want to move faster to solve critical challenges with mobility and public safety that drones can help with," says Michael Healander. "They're willing to take more risks to be a new, smart, connected city. Our partners, such as Ontario, California and Detroit Aerotropolis, want to be on the forefront. They want to promote that they are ready and want to encourage drone operators to setup their services. For example, In Michigan, we are collaborating with several partners to use drones for just in time parts delivery for manufacturing and it's paying off. We believe there will be many more opportunities developing in Michigan. We are also starting to see new public-private partnerships emerge in many locations."
"In every state where we signed up a new community, within a few months, that had multiplied to five or six cities," says Michael Healander. "The goal is 50 states here in the USA, starting with the most populated and working our way down because the more airspace we can unlock over people, the more valuable it is. We have also signed agreements with drone manufacturers, logistics and service companies that are embedding our technology so they can start to do site selection. They can now look at different cities and identify where possible BVLOS flight corridors could be."
"It's what we call laying the tracks," says Michael Healander," which is what we are doing this year. Next year it will be more about supporting the increase of drone volumes throughout the USA and in 2023 we want to introduce more scale and volume and begin advanced air mobility at a small scale."
For more information
https://airspacelink.com/government
https://airspacelink.com/contact-us