Taiwan's Tron Future Tech is redefining the effectiveness of counter-UAS technologies.
The company's industry-leading product is the T.Radar Pro range of lightweight, high-performance C-UAS AESA (active electronically scanned array) radars. These offer customers a 5km micro drone (RCS 0.01m2) detection capability from a unit which weighs just 15.6 kg and which can fit in airline hand-luggage. It requires only one person to transport, install and operate and compared to other units on the market is extremely cost-effective.
"The lightness and excellent mobility of the T.Radar Pro have provided very suitable for our requirement," according to a senior Coast Guard procurement officer. "It means a single soldier can complete mission alone. In secluded areas or islands, this feature means a lot to us. Most especially, its price makes widespread deployment possible."
Customers who need to integrate large numbers of networked, effective drone detection systems can now do so without breaking the bank.
Multiple T.Radar Pro radars can seamlessly work together to extend surveillance coverage and its software-defined programming allows the network of connected radars to function on flexible designs with different usage scenarios. The user interface is simple and friendly. Information on detected targets is uploaded to the cloud; operators can use an iPad or laptop to access the display and operate the radar, without additional training. And the patented T-shape phase array antenna technology significantly reduces manufacturing costs, making the T-Radar Pro the most cost-effective unit in its class.
"T.Radar Pro allows us to build an airport drone defence system at the lowest cost and with excellent performance"
"When we started designing the drone detection radar, we were targeting civil users like power plants, airports and wind farms – economically important sites that could be adversely affected by random drone intervention," said Yu-Jiu Wang, Chairman & CEO of Tron Future Tech. "T.Radar Pro can detect target velocity from 1 m/s~50 m/s. With this performance, our radar can target not just drones but also pedestrians, moving vehicles and aircraft."
The T-Radar Pro's operating system is based on digital signal processing (DSP) algorithms of array beamforming, clutter suppression, and target tracking with data association. Hence, any small-size desired target with radar cross section (RCS) 0.01 can be detected and precisely tracked at a distance range up to 5 km. Through multiple well-designed DSP stages at the receiver, false alarms from unrelated targets are minimized.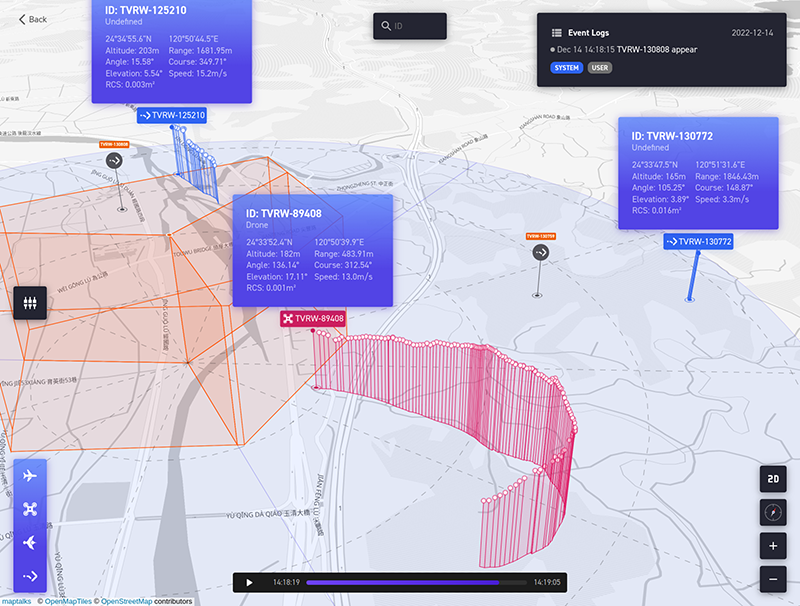 "Scalability is part of the core design of all our products as drone technology changes rapidly and customers are facing constant upgrades of threats," said Yu-Jiu Wang. "A software-defined AESA is required to step to future new threats. Rapid radar resource management is AESA radar's major advantage: it allows engineers to upgrade the radar performance by simply revising the software according to the characteristics of new threats. For example, if customers face a faster velocity target, farther detection range requirement, or a large number of target (swarm) threats, T.Radar Pro can modify its software parameters to achieve users' mission."
T.Radar Pro has been deployed by the R.O.C Coast Guard for coastal surveillance and for power-plant anti-drone systems throughout Taiwan.
Tron Future Tech will be exhibiting its T.Radar Pro at IDEX Dubai from February 20 -24. All visitors welcome
"Tron Future Tech is the top AESA radar design and manufacture corporation in Taiwan," according to a government security customer in Taiwan. "Its T.Radar Pro allows us to build an airport drone defense system at the lowest cost and with excellent performance. I was impressed that T.Radar Pro can detect a RCS=0.01m2 target at a distance of 5 km. In addition, Tron Future Tech can adjust the radar performance according to the special requirement of each airport to achieve the best defence without adding any cost.
Tron Future Tech will launch the enhanced "T.Radar Pro Kinmen" version in Q3 2023, increasing the maximum drone detection range to 8〜10 km.
Tron Future Tech may be a relative newcomer but it is rapidly developing into a centre of excellence for electronic scanning radars in the region. In late December 2022 the company announced it had successfully won a US$15 million contract from the Taiwan Space Agency to develop a satellite Synthetic Aperture Radar (SAR) payload as part of the third phase of Taiwan's national space programme, comprising six SAR satellite systems to be produced by the end of 2030 along with optical remote sensing satellites and communication satellites. Tron Future Tech was founded in 2018 in Hsinchu, Taiwan. The company is supported by over 100 professional engineers specializing in developing and producing the world's most advanced electronic scanning radar and satellite communication systems.
For more information
tronfuture.com/product/t-radar-overview/
For sales information
Cheng-Tien Kuo
+886 3 575 0057 #5001
sales@tronfuture.com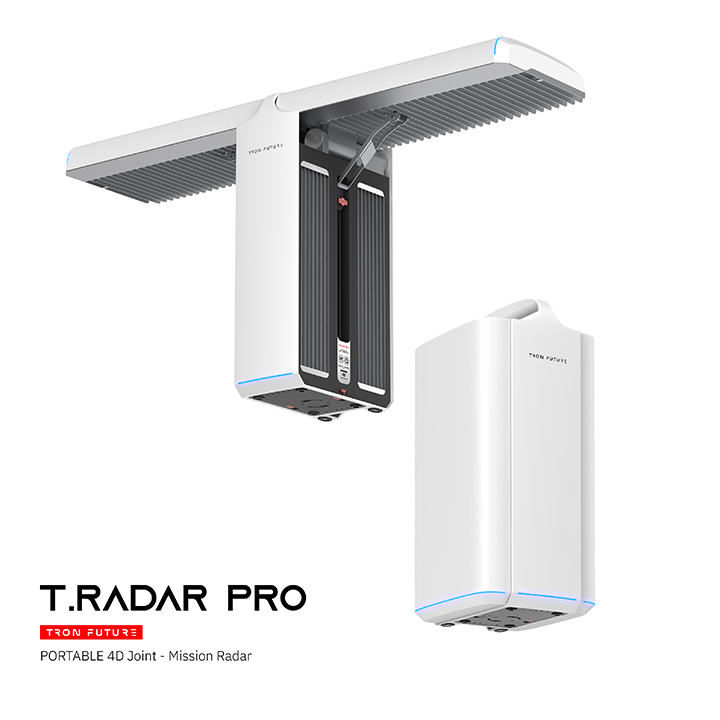 T. Radar Pro: highly advanced detection capabilities at low and flexible funding rates
T.Radar Pro is a software-defined, multi-mode, multi-function active electronically scanned array (AESA) radar, whose parameters can be real-time optimized to adapt to diverse cases and needs.
It has four performance modes: from basic, R01, R02, to R03 based on customers' requirements, with maximum detection ranges for micro drone (RCS 0.01m2) targets of 2 km, 3 km, 4 km and 5 km respectively.
Customers can purchase a basic licence – if budgets are limited and for a trial period – but the design allows users to purchase more powerful licensed software upgrades when additional funding become available. This concept allows for a wide range of customer budgetary plans and makes deployment schedules more flexible and easily to scale up to meet changing threat scenarios. For customers who want to deploy radar in coastal areas to defend against low-altitude drone intrusions from the sea, T.Radar Pro offers a "sea clutter environment" licensed option. Customers can choose this option to turn T.Radar Pro from an air-search radar to sea-surface-search radar.
T.Radar Pro is a simple plug-and-play system. Once the system is powered on, users can just set up a scanning area via the GUI and one-click start the corresponding scanning mission to monitor moving targets.